Kaufe Rainbow Pyrite Druzy Gems
(1)
Sortieren nach:
Alles löschen
Einzelheiten
1 Stk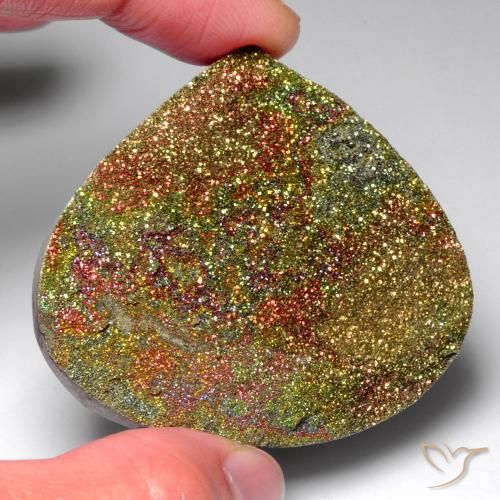 Birne Mehrfarbig Regenbogen-Pyrit
130.9ct
47 x 43.6 mm
Artikel auf Lager
Rainbow Pyrite Druzy
Rainbow pyrite
is a recent find from Russia. The material comes in the form of "druzy" - a layer of miniature pyrite crystals coating a matrix. It displays a shimmering rainbow of colors, including shades of gold, green, pink and blue. Pyrite is named for the Greek word for fire, since it produces sparks struck with steel. Pyrite is opaque with metallic luster and it can be iridescent.
Geprüfte Kundenbewertungen
Gesamtbewertung -> 10

My experiences with Gemselect have always been quite satisfactory. The items are accurately photographed, a detailed description and provenance provided and the compare feature helps customers select the best gem for their needs. I have often recommended this source and will continue to do so.
Geschrieben von GemGirl in November, 2019
Gesamtbewertung -> 10

I ordered several specific items from Gemselect. Items are always packaged very carefully to protect the content. Gemselect always encloses a card of authenticity which documents the entire stone, its size, clarity, etc. All of the items are as they were described. I would highly recommend them to anyone who's in the market for a gem.
Geschrieben von Ron in November, 2019
Gesamtbewertung -> 9

I frequently check the GemSelect website for a variety of gems. I've been very satisfied with the selection and quality of the top rated gems. All of the purchases I've made have turned out beautiful pieces of jewelry.
Geschrieben von Steve in November, 2019
Gesamtbewertung -> 10

Outstanding user interface. Clear images and videos. Easy filtering and searching of large inventory.
Geschrieben von Dan in November, 2019
Gesamtbewertung -> 9

really good gem selection will becoming back
Geschrieben von Jehuty in November, 2019
Gesamtbewertung -> 9

I enjoyed the purchase and all the choices. You have great online information about your company and guarantees.
Geschrieben von Philipj in November, 2019
Informationen zu Edelsteinen