产品详细信息
1 件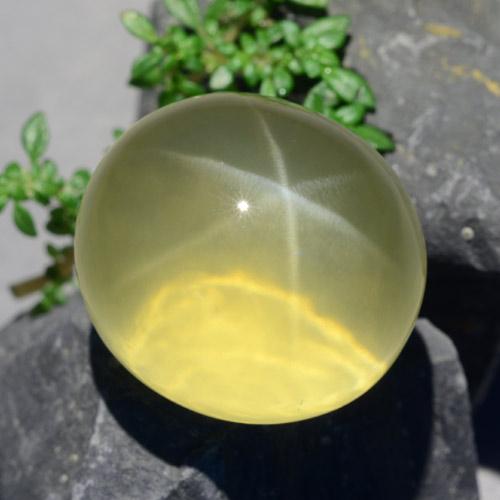 椭圆形 黄色 星光柠檬石英
84.6ct
25.2 x 22.5 mm
现在有货
产品详细信息
1 件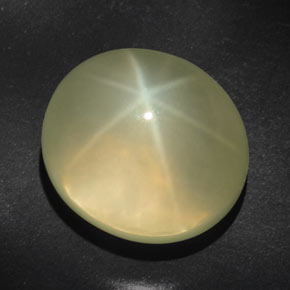 椭圆形 黄色 星光柠檬石英
67.5ct
23.5 x 20.4 mm
现在有货
星光柠檬石英
Why buy Star lemon quartz gemstones?
Star lemon quartz is a lemon-yellow variety of transparent quartz which exhibits a rare and desirable asterism (star effect). It is closely related to citrine quartz, but it is more lemon yellow in color, whereas citrine tends to have heavier orange tones.
What are some of the properties of Star lemon quartz gemstones?
Most lemon quartz is heated or enhanced to obtain a brilliant, yellow color. The most significant sources include Brazil and Africa, where very gem quality large crystals are found, often producing huge gemstones weighing over 150 carats.
What are good ways to use Star lemon quartz gemstones?
Since the color yellow is associated with clarity, happiness and communication, star lemon quartz is thought to bring balance and positive energy to its wearer. Like all quartz, star lemon quartz is considered very durable and suitable for all types of jewelry.
Want to know more about Star lemon quartz Gemstones?
Read our lemon quartz Information Page here.
注册用户评论
综合评分 -> 10

The shipping was fast. The gems I ordered look great and the price was good.
发布者 Jayman in November, 2019
综合评分 -> 10

My experiences with Gemselect have always been quite satisfactory. The items are accurately photographed, a detailed description and provenance provided and the compare feature helps customers select the best gem for their needs. I have often recommended this source and will continue to do so.
发布者 GemGirl in November, 2019
综合评分 -> 10

I ordered several specific items from Gemselect. Items are always packaged very carefully to protect the content. Gemselect always encloses a card of authenticity which documents the entire stone, its size, clarity, etc. All of the items are as they were described. I would highly recommend them to anyone who's in the market for a gem.
发布者 Ron in November, 2019
综合评分 -> 9

I frequently check the GemSelect website for a variety of gems. I've been very satisfied with the selection and quality of the top rated gems. All of the purchases I've made have turned out beautiful pieces of jewelry.
发布者 Steve in November, 2019
综合评分 -> 10

Outstanding user interface. Clear images and videos. Easy filtering and searching of large inventory.
发布者 Dan in November, 2019
综合评分 -> 9

really good gem selection will becoming back
发布者 Jehuty in November, 2019
宝石信息
人气宝石