Gemas por color

Mucha gente compra gemas por tipo –ellos quieren comprar un zafiro o una turmalina o una amatista. Pero una cosa que hemos aprendido en el negocio de gemas coloridas, es que la mayoría de clientes se preocupan sobre todo por el color, y están menos interesados en la variedad de la gema siempre y cuando la piedra que compran, sea lo suficientemente duradera para su propósito.

Encontrar gemas por color puede ser a menudo difícil, ya que los sitios web tienden a organizar su inventario por variedad de gemas más no por colores. Por lo tanto, para aquellos que quieren saber cuáles son sus opciones, en particular colores, aquí hay una lista de tipos de gema organizadas por color.

Dado que hay cientos de variaciones de color en gemas coloridas, hemos organizado esta lista en torno a la "base" de colores o familias de color. Una gema roja-anaranjada caería en la categoría "anaranjada" y una piedra azul-verde en la categoría "verde".

Rojo
Piedras preciosas rojas son actualmente bastante raras y se producen principalmente en rubí, espinela y granate. Hay una turmalina roja muy fina (a veces llamada rubelita), pero no se encuentra a menudo.

• Rubí

• Espinela
• Granate
• Turmalina
• Andesina
• Circón
Rosa
Las piedras preciosas rosadas más populares son turmalina y espinela. Zafiro rosado es lindo pero raro. Granate rodolita tiende a rosa-púrpura. Para más información acerca de piedras preciosas rosadas vea nuestro artículo sobre el tema.
• Zafiro
• Turmalina

• Espinela
• Granate rodolita
• Cuarzo rosa
• Kunzita
• Morganita
Azul
La piedra preciosa clásica azul es el zafiro. Azul profundo saturado se encuentra también en espinela y cianita. Hay una serie de opciones en los azules claros, incluyendo topacio, circón y aguamarina. Tanzanita e iolita son más de un azul violeta, mientras que turmalina Paraiba, fluorita y apatita tienden al azul-verde.
• Zafiro
• Tanzanita
• Topacio

• Circón
• Espinela
• Aguamarina
• Apatita
• Lapislázuli
• Turmalina
• Turmalina Paraiba
• Piedra de luna arco iris
• Iolita
• Cianita
• Ágata
• Fluorita
Verde
La gema tradicional verde es esmeralda, pero granate tsavorita, cromoturmalina y cromodiópsido son buenas alternativas. Vea nuestro artículo sobre cromodiópsido sobre la historia reciente en el mercado de piedras preciosas verdes más finas. Peridoto, que tiende más al verde oliva, se ha convertido en una importante piedra de joyería.
• Esmeralda
• Turmalina
• Turmalina Paraibae


• Cromo turmalina
• Granate tsavorita
• Granate demantoide
• Cromo diópsido
• Peridoto
• Jade
• Apatita
• Zafiro
• Aventurina
• Prehnita
• Ágata
• Rubí-zoisita
Amarillo / Dorado
Citrino es la gema de amarillo a dorado más común, pero zafiro amarillo es muy buscado. También hay buenas opciones con gemas más duras como berilo y crisoberilo. Turmalina amarilla de Malawi es muy rara.
• Zafiro
• Citrino
• Ópalo de fuego


• Turmalina
• Esfena
• Circón
• Ortoclasa
• Crisoberilo
• Berilo
• Espodumena
• Cuarzo
• Ágata
• Diamante
Violeta / Púrpura
La lista de piedras preciosas violeta y púrpura es bastante corta. Amatista es el ejemplo clásico, pero la fluorita también puede encontrarse en una amatista-como púrpura. Hay maravillosos tonos violeta en espinela, turmalina y zafiro. Calcedonia se produce con frecuencia en un tono lavanda único.
• Amatista


• Fluorita
• Espinela
• Turmalina
• Zafiro
• Calcedonia
Naranja
Granate espesartina es la gema anaranjada más famosa, pero hay una serie de otras opciones también. Zafiro anaranjado es producido por tratamiento térmico, mientras que el ópalo de fuego más fino se produce en tonos de amarillo-anaranjado a rojo-anaranjado.
• Granate espesartina
• Circón

• Ópalo de fuego
• Zafiro
• Turmalina
• Topacio Imperial
• Piedra de luna
• Piedra de luna estrella
• Citrino
• Andesina
Blanco
Estas categoría incluye tanto gemas incoloras, tales como el diamante, zafiro, topacio y circón, así como piedras preciosas blancas tales como ópalo de fuego y piedra luna.
• Diamante
• Zafiro

• Circón
• Piedra de luna
• Topacio
• Ópalo de fuego
• Jade
• Cuarzo
• Ágata
Marrón / Bronce
Es justo decir que el café no es el color más popular en piedras preciosas. Pero hay algunas excepciones notables, como el bronce-anaranjado-melocotón de topacio imperial.
• Cuarzo ahumado


• Ojo de tigre
• Ágata
• Turmalina
• Topacio Imperial
Gris / Plata
Hay muy pocas piedras preciosas que sean predominantemente gris o plata. En nuestra experiencia, la más popular es espinela, cuyo brillo y refracción única muestran gris y plata en su mejor condición.

• Espinela
• Turmalina
• Fluorita
Negro
Nosotros vendemos ocasionalmente diamantes negros (producidos por irradiación). Pero con mucho, la piedra preciosa negra más popular es turmalina. Los zafiros estrella negros sólo se encuentran en Chantaburi, Tailandia y son también muy populares.
• Diamante

• Turmalina
• Ónice
• Ágata
• Zafiro
• Zafiro estrella
Multicolor
En la categoría de piedras preciosas multicolores, listamos esas gemas que muestran colores múltiples en una sola piedra. Algunas de estas gemas, como turmalina, fluorita y ametrino, tienen zonas de diferentes colores. Otras, como andalucita, son fuertemente pleocróicas y muestran diferentes colores desde distintos ángulos.
• Turmalina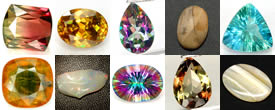 • Ametrino
• Fluorita
• Andalucita
• Ópalo
• Esfena
• Zafiro
• Topacio místico
• Cuarzo místico


First Published: January-09-2008
Last Updated: August-04-2016
© 2005-2016 GemSelect.com all rights reserved.
Reproduction (text or graphics) without the express written consent of GemSelect.com (SETT Company Ltd.) is strictly prohibited.