Comprar Diamantes blancos Gemas
(2)
Ver Detalles
26 Pzs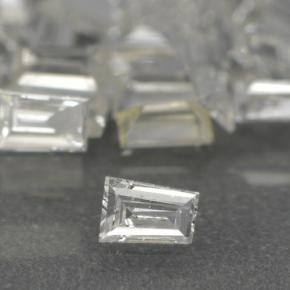 Corte Baguette Blanco Diamante
0.02 ct (Total 0.48ctw)
2.1 x 1.1 mm
Artículo en inventario
Diamantes blancos
El diamante es la sustancia natural más dura conocida sobre la tierra y se compone de carbono (al igual que el grafito). El nombre 'diamante' proviene de 'adamas' que significa 'invencible' en griego. Los diamantes han sido valorados durante mucho tiempo por su excepcional dureza, alto índice de refracción (brillo) y una notable y alta dispersión. Al ser la sustancia más dura conocida (10 en la escala Mohs), el diamante tiene una resistencia de corte que es aproximadamente 140 veces mayor que la del zafiro y el rubí, ambos hechos de corindón, la segunda sustancia natural más dura en la tierra. El diamante se clasifica como una de las 'cuatro gemas preciosas', aunque no es tan raro como muchos creen. El zafiro, el rubí y la esmeralda componen las restantes 'cuatro gemas preciosas'. Tradicionalmente, los diamantes incoloros o de color 'blanco' son la elección más popular cuando se trata de joyería de compromiso y matrimonio. Aunque los diamantes pueden encontrarse en otros colores de fantasía, incluyendo el diamante azul, rojo (el más raro), amarillo y champaña a marrón oscuro, el brillo del diamante blanco es el más buscado. Los diamantes de fantasía pueden demandar precios muy altos, en especial si son diamante de color no tratados. En realidad la mayoría de los colores son el resultado de tratamientos de gemas como mediante la irradiación. Aproximadamente la mitad del suministro mundial de diamantes proviene del sur y centro de África. En la última década, los principales productores comerciales de diamantes fueron Angola, Australia, Botsuana, Canadá, el Congo, Guinea, Ghana, Namibia, Rusia y Sudáfrica. También se extraen depósitos significativos en India y Brasil. Recientemente Canadá se ha convertido en uno de los principales depósitos comerciales de diamantes blancos.
Comentarios certificados de los clientes
Calificación General -> 10

I always check this site because they have unique options.
Publicado Por Lisa in February, 2019
Calificación General -> 10

Great website to navigate. Awesome Gem selection! Nice photos and discriptions for all of the gems for sale. You can find gems in all price ranges. Checkout was a breeze.
Publicado Por Timmy in February, 2019
Calificación General -> 10

They had an extensive gemstone selection in all different cuts, sizes, and colors. They also had very good and workable prices. All of these aspects pulled me in as a customer.
Publicado Por Josh in February, 2019
Calificación General -> 10

I ordered this really nice pair of Rubies from Gemselect and I love them because of all the detailed information you get. Also if you scroll down you can see other similar items single, in pairs, lots, bigger, smaller, etc and it's such an easy website to use.
Publicado Por Bruno in February, 2019
Calificación General -> 10

I wasn't sure where to go to find a variety of gemstones to choose from in the size and shape that I was looking for. I'm really glad I found this website because the search options and filters made it really easy to find what I was looking for. The prices seem quite reasonable. This will be the first place I go the next time I'm looking for a gemstone!
Publicado Por Pink4302 in February, 2019
Calificación General -> 9

I am impressed with the variety of the inventory and the information provided on each item. I like the pricing. The only reason I wouldn't recommend the site is I do not want to reveal my source.
Publicado Por Bob in February, 2019
Piedras Preciosas Populares