Sortieren nach:
Alles löschen
Einzelheiten
1 Stk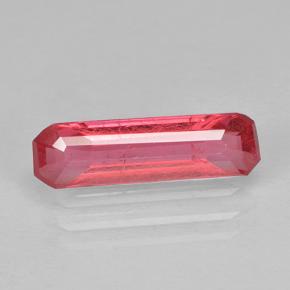 Oktagonschliff Pink Rhodonit
1.4ct
12.9 x 3.7 mm
Artikel auf Lager
Rhodonit
Rhodonite
is one of several gemstones that draw their name from the Greek word for rose (rhodon), the others are rhodolite garnet and rhodochrosite. Rhodonite, however, is rarely entirely red; it is usually rose pink to red with black dendritic inclusions of manganese oxide. Rhodonite's attractive color and vitreous to pearly luster has made it popular as a decorative material. It is often used as cabochons for necklaces, and for ornamental objects.
Geprüfte Kundenbewertungen
Gesamtbewertung -> 10

I was very pleased with the selection and clarity of the turquoise. I do wish you would state which mines it came from though.
Geschrieben von Jen's Gems in November, 2019
Gesamtbewertung -> 8

prices sound great. First purchase. Hopefully quality matches
Geschrieben von SD in November, 2019
Gesamtbewertung -> 10

I am designing a sunken treasure "snow globe" as a gift to my wife. Between GemSelect and Etcy I have found everything I need.
Geschrieben von Tim in November, 2019
Gesamtbewertung -> 10

I have purchased, many times & have always been pleased!
Geschrieben von Jim in November, 2019
Gesamtbewertung -> 9

GemSelect has a wide selection of gems with photos of the actual gem that you will be purchasing, not some stock photo. Once a purchase is made, you can print out a certificate of authenticity. You know you are getting the real thing. The pricing is competitive. Their website also has useful information about gems.The website is easy to use. I have made multiple purchases with GemSelect, and I will be back again!
Geschrieben von GeneticBlend in November, 2019
Gesamtbewertung -> 10

The shipping was fast. The gems I ordered look great and the price was good.
Geschrieben von Jayman in November, 2019
Informationen zu Edelsteinen
Beliebte Edelsteine