Kaufe Moos-Opal Edelsteine
(1)
Sortieren nach:
Alles löschen
Einzelheiten
1 Stk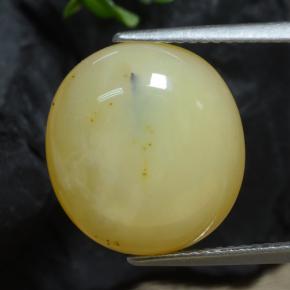 Oval Gelb Moss Opal
7.4ct
15.3 x 14.1 mm
Artikel auf Lager
Moos-Opal
Der Name Opal kommt wahrscheinlich vom Sanskrit "upala" ab und bedeutet "wertvoller Stein": Moos-Opal gehört zu den "Gemeinen Opalen", die lichtundurchlässig sind und in der Regel keine Farbe aufweisen. Edelopale zeigen alle Farben des Regenbogens, die sich je nach Blickwinkel ändern. Moos-Opal ist ein milchig-weißer Opal mit einzigartigen Einschlüssen von grüner Hornblende in moosähnlichen Mustern. Er wird oft als "Dendriten-Opal" oder "Baumachat" bezeichnet. Moos-Opal wird oft als Opal-Cabochon andgeboten und eignet sich für Ohrringe, Broschen und Anhänger. Andere Arten Opale, die mit Matrix oder Trägerstein gehandelt werden (z.B. Boulder-Opal oder Opal in Matrix) sind haltbarer und eignen sich besser für Ringe. Auf wenn Opale sehr zerbrechlich sind, gehören sie doch zu den beliebtesten Steinen für Schmuck. Es wird schon lange an die Heilkräfte des Opals geglaubt. Es wird ihm nachgesagt, dass es Depressionen mindert und dem Träger hilft, die wahre Liebe zu finden. Opal ist einer der offiziellen Geburtssteine für den Monat Oktober.
Geprüfte Kundenbewertungen
Gesamtbewertung -> 10

GemSelect has a vast selection of gemstones in various size, shape and price. I like it because the gems are precut and ready for the novice jewler. The website is very easy to navigate and purchasing was a breeze.
Geschrieben von Mr. C in February, 2020
Gesamtbewertung -> 8

It was super easy to find what i wanted and i loved how i can sort through the huge selection easily
Geschrieben von Max in February, 2020
Gesamtbewertung -> 10

This is my second time purchasing from Gem Select. I love this vendor and the website Full of info and if there's any problems or questions customer service has been stellar at Making the experience a great one.
Geschrieben von Tmpbjur in February, 2020
Gesamtbewertung -> 8

seems like a good place to purchase a gem
Geschrieben von Jane in February, 2020
Gesamtbewertung -> 10

First, I wanted to say that you guys have a great selection gems, in all price ranges! Awesome site!! My son found a 6 piece set of blue topaz hearts that he wanted to get. I wanted to view all of the 6 piece sets or 10 piece sets. I recommend adding that ability to your filter.
Geschrieben von Mike in February, 2020
Gesamtbewertung -> 10

Everything came in as expected. This was a great experience and I will order from here again.
Geschrieben von Sam in February, 2020
Informationen zu Edelsteinen
Beliebte Edelsteine