À propos de l'Agate Dendritique
L'agate dendritique est la calcédoine grise-blanchâtre ou incolore avec des ramifications - ou des marquages semblables à la fougère connus comme les dendrites. Le nom de la variété d'agate est utilisée pour ce bijou, même si elle ne présente pas les caractéristiques de cerclage de l'agate.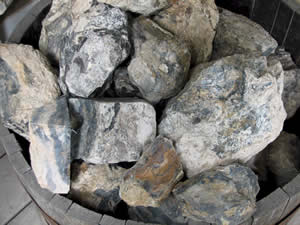 Pierre brute d'Agate Dendritique
Les dendrites dans l'agate dendritique sont des inclusions de manganèse ou de fer, d'habitude de couleur marron ou noire. Bien qu'ils semblent organiques en raison de leur structure semblable à la fougère, ils sont en fait inorganiques; ils sont formés à la fine surfaces de rupture, par le biais de la cristallisation et de solutions érodées de roche voisine.
L'agate dendritique peut être difficile à couper car les inclusions de dendrite se produisent à différentes profondeurs dans la pierre précieuse. Les lapidaires ont besoin de couper la matière de manière à exposer les motifs les plus intéressants.
Le célèbre joaillier russe Carl Fabergé, qui était un fournisseur de la Cour Impériale de Russie de 1885 à 1916, utilisait les agates dendritiques avec les diamants et d'autres pierres précieuses pour beaucoup de ses pièces. L'agate dendritique est prisé en Russie comme une pierre de longue vie, de bonne santé et de prospérité.
Comme d'autres calcédoines, l'agate dendritique a une dureté de 6,5 à 7 sur l'échelle de Mohs, d'un poids spécifique de 2.59-2.67 et un indice réfractaire de 1.530-1.540. Du fait que la calcédoine n'a pas de clivage, elle est très résistante et peut être utilisé pour toutes sortes de bijouterie.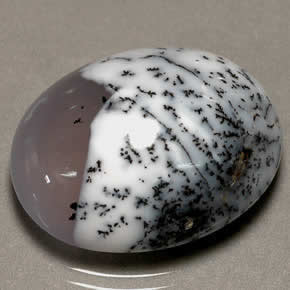 Dendritic Agate Cabochon
En raison de ses inclusions de dendrite, l'agate dendritique comporte quelques similitudes avec la mousse d'opale. Mais on n'appelle pas l'agate dendritique l'agate de mousse. En fait, il y a une autre pierre précieuse appelée l'agate mousse, qui a des inclusions verte d'hornblende dans des motifs semblables à la mousse.
Les gisements d'agate dendritique se trouvent au Brésil, en Inde, à Madagascar, aux Etats-Unis, au Mexique et au Khazakstan.
On croit que l'agate dendritique aide dans à la communication avec la nature. Elle est associée à la protection de la terre, de la pluie, de la prospérité, de l'abondance, de la guérison, la restauration et de la créativité. Elle est censée améliorer l'estime de soi et la balance émotionnelle.
First Published: July-05-2008
Last Updated: October-06-2010
© 2005-2016 GemSelect.com all rights reserved.
Reproduction (text or graphics) without the express written consent of GemSelect.com (SETT Company Ltd.) is strictly prohibited.