Kaufe Citrin mit Asterismus Gems
(1)
Sortieren nach:
Alles löschen
Einzelheiten
1 Stk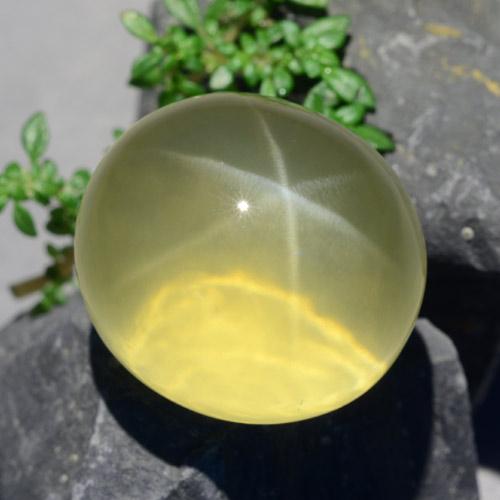 Oval Gelb Citrin mit Asterismus
84.6ct
25.2 x 22.5 mm
Artikel auf Lager
About Star Lemon Quartz
Why buy Star lemon quartz gemstones?
Star lemon quartz is a lemon-yellow variety of transparent quartz which exhibits a rare and desirable asterism (star effect). It is closely related to citrine quartz, but it is more lemon yellow in color, whereas citrine tends to have heavier orange tones.
What are some of the properties of Star lemon quartz gemstones?
Most lemon quartz is heated or enhanced to obtain a brilliant, yellow color. The most significant sources include Brazil and Africa, where very gem quality large crystals are found, often producing huge gemstones weighing over 150 carats.
What are good ways to use Star lemon quartz gemstones?
Since the color yellow is associated with clarity, happiness and communication, star lemon quartz is thought to bring balance and positive energy to its wearer. Like all quartz, star lemon quartz is considered very durable and suitable for all types of jewelry.
Want to know more about Star lemon quartz Gemstones?
Read our lemon quartz Information Page here.
Geprüfte Kundenbewertungen
Gesamtbewertung -> 9

felt selecting what I wanted was easier and allowed me to find what I wanted.
Geschrieben von Cara in June, 2020
Gesamtbewertung -> 10

I have used gemselect several times over the past 10 years. I go to no other likeness for my stone needs.
Geschrieben von Peachy in June, 2020
Gesamtbewertung -> 10

Pleased to finally find nice amethyst cabochon that I can afford. I am designing pendant for friend in silver.
Geschrieben von Jenny in June, 2020
Gesamtbewertung -> 10

Secrect
Geschrieben von Cliff in June, 2020
Gesamtbewertung -> 9

When buying high-price items - like gems - it can be scary you are being scammed. GemSelect has no hidden strings. I tested this by purchasing very small, but they have won me over. Their prices are upfront and the quality is as expected. They also package their gems well, and ship incredibly quickly. Their website is easy to use, and they have quick customer service. Best eWholesaler.
Geschrieben von BlueJacers in June, 2020
Gesamtbewertung -> 10

I was looking for very specific loose gems for my collection and some loose gems to add to a piece of jewelry I want to have made and Gem Select had everything I was looking for and the selection and price ranges were outstanding. I will absolutely purchase from this vendor again and often. I am so very pleased with the items I received.
Geschrieben von Plynn in May, 2020
Informationen zu Edelsteinen