Comprar Cuarzo limón estrella Gemas
(3)
Ver Detalles
1 pz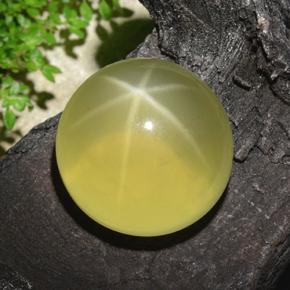 Circular Amarillo Cuarzo Limón Estrella
81.2ct
23.3 mm
Artículo en inventario
Ver Detalles
1 pz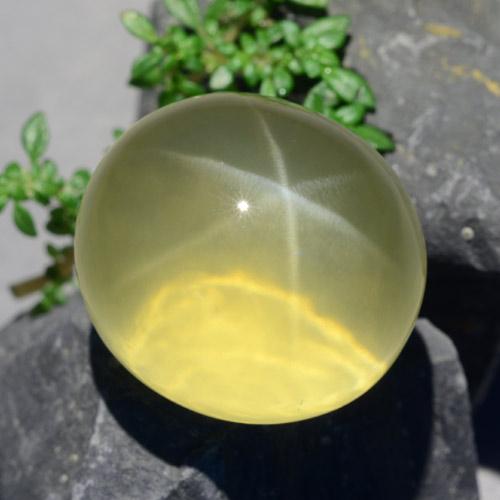 Ovalada Amarillo Cuarzo Limón Estrella
84.6ct
25.2 x 22.5 mm
Artículo en inventario
Ver Detalles
1 pz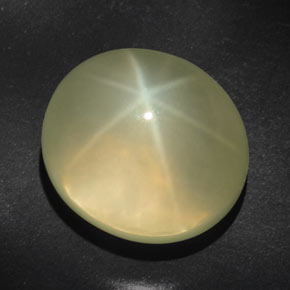 Ovalada Amarillo Cuarzo Limón Estrella
67.5ct
23.5 x 20.4 mm
Artículo en inventario
Cuarzo limón estrella
El cuarzo limón estrella es una variedad amarilla-limón del cuarzo transparente la cual exhibe una raro y deseable asterismo (efecto estrella). Está relacionado estrechamente con el cuarzo citrino, pero es más amarillo limón en su color, considerando que el citrino tiende a tener tonos naranja más fuertes. La mayoría del cuarzo limón se calienta o mejora para obtener un color brillante y amarillo. Los depósitos más significativos incluyen Brasil y África, donde se encuentran cristales con calidad de gema muy grandes, produciendo con frecuencia piedras preciosas enormes que pesan más de 150 quilates. Ya que el color amarillo se asocia con la claridad, la felicidad y la comunicación, se cree que el cuarzo limón estrella ofrece equilibrio y energía positiva a su portador. Al igual que todo el cuarzo, el cuarzo limón estrella se considera muy durable e idóneo para todos los tipos de joyería.
Comentarios certificados de los clientes
Calificación General -> 10

man their gems are pretty good, and the prices aren't to bad either, I like checking out hte gems on there website, beceause the pictures of the gems are taken pretty well, and you can see the table, and the facets.
Publicado Por Spinach in March, 2019
Calificación General -> 10

I love gemselect and I have bought a fair amount from them. The only complaint I have is not being able to save gems. I have a lot of projects so i am in the market for a lot of different gems and it's so disappointing to have to delete them all just to purchase one or two that I have saved in my cart.
Publicado Por S.Hicks in March, 2019
Calificación General -> 10

I always check this site because they have unique options.
Publicado Por Lisa in February, 2019
Calificación General -> 10

Great website to navigate. Awesome Gem selection! Nice photos and discriptions for all of the gems for sale. You can find gems in all price ranges. Checkout was a breeze.
Publicado Por Timmy in February, 2019
Calificación General -> 10

They had an extensive gemstone selection in all different cuts, sizes, and colors. They also had very good and workable prices. All of these aspects pulled me in as a customer.
Publicado Por Josh in February, 2019
Calificación General -> 9

It all depend on the product I will receive and have it verified by my in law jewellers.
Publicado Por Vodka in February, 2019
Información sobre gemas
Piedras Preciosas Populares