Cómo se forman las piedras preciosas
Los minerales se forman en ambientes numerosos y diversos. La mayoría de las piedras preciosas se forman en la corteza de la tierra, es decir la capa superior, en una profundidad que varía de los 4,8 km. a los 40 km. Sólo dos variedades de gemas se forman en el manto de la tierra, el diamante y el peridoto, lo que representa el 80% del volumen de la tierra. El manto está constituido mayormente de roca fundida, denominada magma, con una capa superior sólida.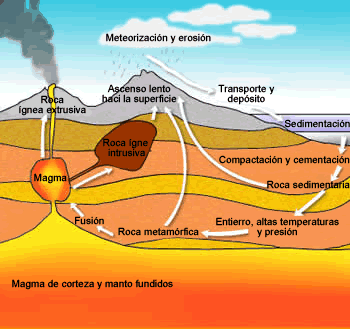 Ciclo de la Roca
Mientras que son pocas las piedras preciosas que originariamente se forman en el manto, la mayoría se extrae de la corteza. La corteza está constituida por tres tipos de rocas, que en geología se denominan ígneas, metamórficas y sedimentarias. Estos términos técnicos hacen referencia a la manera en que se formaron las rocas. Algunas piedras preciosas están asociadas especialmente con una roca, mientras que otras a múltiples tipos.
El proceso ígneo involucra la solidificación del magma. El magma del manto puede elevarse hacia la corteza, por lo general a través de los tubos volcánicos. Si llega a la superficie de la tierra, se solidifica y se trasforma en lava. Por el contrario, si la masa de magma se enfría lentamente en la corteza, se cristaliza y forma minerales. Los aumentos de presión también pueden ocasionar que este fluido pegmatítico se infiltre en las rocas circundantes, con frecuencia causando intercambios químicos. De la larga lista de piedras preciosas formadas a partir de rocas ígneas, citamos el grupo de los crisoberilos, todos los cuarzos (incluida la amatista, el citrino y el ametrino), los berilos (esmeralda, la morganita y el aguamarina), los granates, las piedras lunares, las apatitas, los diamantes, las espinelas, las tanzanitas, las turmalinas, los topacios y los zircones.
Una vez que la roca ígnea alcanza la superficie de la tierra, las fuerzas de la erosión y de las inclemencias climáticas forman partículas más pequeñas que se acumulan en la superficie o se trasladan por el viento y agua. A medida que transcurre el tiempo, a partir de estos sedimentos se forman capas en la tierra o en el agua. La presión ejercida por las capas superiores provoca la compactación de las capas inferiores así como varios cambios químicos y físicos, como la litificación, causante de la formación de las rocas sedimentarias. La evaporación es otro proceso que genera la formación de rocas sedimentarias, a medida que el goteo de aguas cargadas de minerales va formando estalactitas o estalagmitas. Entre las piedras preciosas asociadas a las rocas sedimentarias se encuentran el jaspe, la malaquita, el ópalo y el zircón.
La presencia intrusiva de magma en un área (conocida como metamorfismo por contacto), o las interacciones de las placas tectónicas en gran escala (denominada metamorfismo regional) somete a las rocas ígneas y sedimentarias al calor o la presión, lo que genera cambios en su composición química y estructura cristalina. El resultado es la formación de rocas metamórficas. Entre las piedras preciosas asociadas a las rocas metamórficas se encuentran el berilo, el jade, el lapislázuli, la turquesa, la espinela, el rubí, el zafiro y el zircón.
Las rocas y los minerales están en cambio constante, lo cual se conoce como el Ciclo de la Roca. Las rocas ígneas pueden transformarse en sedimentarias o metafóricas. Las sedimentarias pueden cambiar a metamórficas o ígneas. Y las metamórficas pueden transformarse en ígneas o sedimentarias. Pero esto requiere de paciencia.
First Published: July-22-2008
Last Updated: May-27-2010
© 2005-2016 GemSelect.com all rights reserved.
Reproduction (text or graphics) without the express written consent of GemSelect.com (SETT Company Ltd.) is strictly prohibited.