Comprar Cabujones de turmalina Gemas
(3)
Ver Detalles
4 Pzs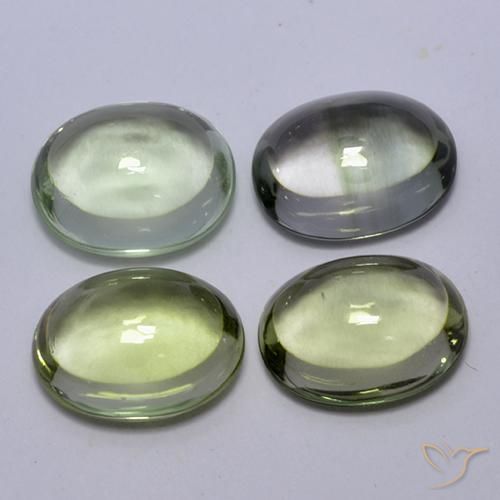 Ovalada Multicolor Turmalina
1.37 ct (Total 5.48ctw)
8.1 x 6.3 mm
Artículo en inventario
Ver Detalles
5 Pzs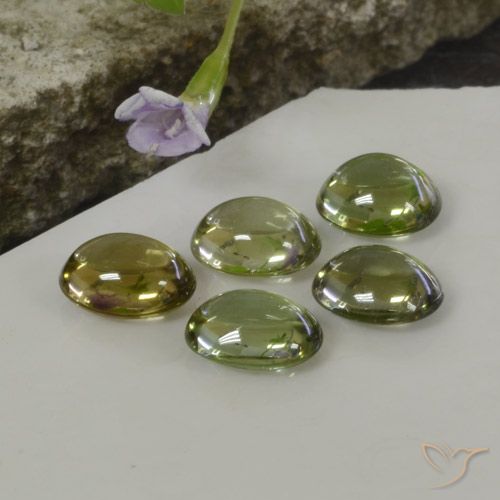 Ovalada Multicolor Turmalina
1.05 ct (Total 5.25ctw)
7 x 6 mm
Artículo en inventario
Ver Detalles
2 Pzs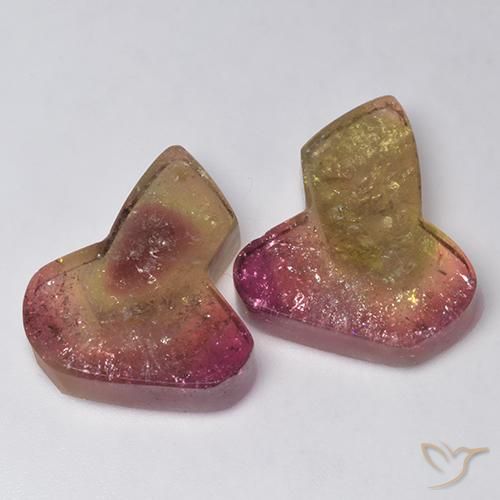 Elegante Bicolor Turmalina
16.52 ct (Total 33.04ctw)
21 x 17.9 mm
Artículo en inventario
Cabujones de turmalina
La turmalina es uno de los grupos de piedras preciosas más versátiles disponibles en la actualidad. Se cree que el nombre 'turmalina' deriva de 'turamali', una palabra cingalesa que se traduce como 'piedra con varios colores'. La mayoría de las turmalinas de calidad fina se facetan para resaltar sus cualidades deseables, en particular en la forma de barras alargadas. Es raro encontrar la turmalina en corte cabujón debido a su alargado hábito cristalino. Aunque muchos vendedores ofrecen cabujones de turmalinas, raramente son gemas de alta calidad. La mayoría de los cabujones se cortan desde el material inferior, aunque hay excepciones a esto, en especial cuando se trata de la turmalina la cual exhibe la chatoyance ojo de gato. La turmalina ojo de gato siempre se corta en cabujón para resaltar el deseable efecto de ojo de gato. La turmalina multicolor y bicolor a menudo se corta en cabujones o trozos para resaltar su característica y atractiva zona de color, como en la turmalina roja, verde y sandía con zonas de blanco. Técnicamente, los cabujones en realidad no son un 'corte', sino que sólo se forman y después se pulen. Antes de los tiempos del facetado, todas las piedras preciosas eran trabajadas en cabujones o en tallados de gemas. Los cabujones carecen de facetas, aunque algunos cortes combinados pueden tener una base plana con una parte superior abovedada facetada, como el 'corte rosa'. A los cabujones de turmalina se les puede dar cualquier forma, pero los cabujones ovalados son más comunes. La turmalina combina asequibilidad con una buena dureza (7 a 7.5 en la escala Mohs) y una excelente durabilidad (no tiene clivaje). Las turmalinas forman una estupenda variedad de colores, incluyendo cristales bicolor y multicolor. Las turmalinas de mejor calidad deben tener una fuerte saturación en el color, una excelente claridad y un brillo vítreo atractivo.
Comentarios certificados de los clientes
Calificación General -> 10

This purchase was very easy to complete. I have been buying items every once in a while from you for a few years now, and always love the simplicity of teaching and purchasing items. I will, of course, purchase from you again.
Publicado Por John in February, 2020
Calificación General -> 10

This site is great.
Publicado Por Con in February, 2020
Calificación General -> 10

GemSelect has a vast selection of gemstones in various size, shape and price. I like it because the gems are precut and ready for the novice jewler. The website is very easy to navigate and purchasing was a breeze.
Publicado Por Mr. C in February, 2020
Calificación General -> 8

It was super easy to find what i wanted and i loved how i can sort through the huge selection easily
Publicado Por Max in February, 2020
Calificación General -> 10

This is my second time purchasing from Gem Select. I love this vendor and the website Full of info and if there's any problems or questions customer service has been stellar at Making the experience a great one.
Publicado Por Tmpbjur in February, 2020
Calificación General -> 8

seems like a good place to purchase a gem
Publicado Por Jane in February, 2020
Información sobre gemas
Piedras Preciosas Populares