Frequently Asked Questions (FAQ) / Red Tourmaline and Rubellite
Is all Red Tourmaline called "Rubellite"?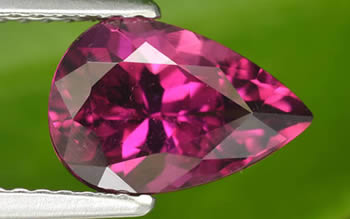 This is a very good question, but not an easy one to answer. Much like the corundum corundrum of red sapphire vs pink ruby, rubellite also lacks a clear agreement in the gemstone business when it comes to the definition of "rubellite tourmaline". Many believe the term can be used to refer to any red tourmaline, while others claim it should be used only for tourmaline that with vivid ruby-like red color. Most gem labs will certify vivid reddish purple to pinkish purple tourmaline as "rubellite tourmaline" too. For more information on the topic see our article on the rubellite rubric.
Primera publicación: Febrero-20-2006
Última actualización: August-08-2017
© 2005-2020 Reproducción (texto o gráficos), sin el consentimiento expreso por escrito de GemSelect.com (SETT Compañía Ltda.) es estrictamente prohibida.