Comprar Serpentina Gemas
(1)
Ver Detalles
1 pz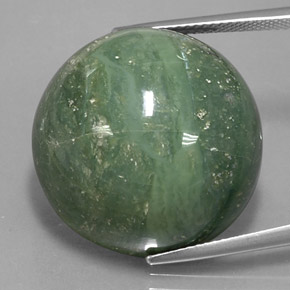 Circular Verde Serpentina
41.3ct
23.1 mm
Artículo en inventario
Serpentina
La serpentina es el nombre usado por diferentes estructuras agregadas que usualmente son de color verde, verde amarillento o verde marrón. La serpentina más fina se corta en cabujón para piedras preciosas o se talla en objetos decorativos. Aunque la serpentina a veces se confunde con el jade, por lo general la serpentina tiene manchas o vetas. El grupo de la serpentina incluye 20 miembros diferentes, incluyendo la verdita, conocida a menudo como 'jade africano'. Todas las serpentinas son un silicato básico de magnesio, muchas también contienen hierro. Otros elementos también pueden estar presentes en pequeñas cantidades, incluyendo cromo, níquel y cobalto. Las variedades de la serpentina se encuentran en muchos lugares en el mundo, incluyendo Afganistán, Birmania, China, Nueva Zelanda, Estados Unidos, Canadá, Reino Unido, Grecia, Italia y Noruega.
Comentarios certificados de los clientes
Calificación General -> 10

man their gems are pretty good, and the prices aren't to bad either, I like checking out hte gems on there website, beceause the pictures of the gems are taken pretty well, and you can see the table, and the facets.
Publicado Por Spinach in March, 2019
Calificación General -> 10

I love gemselect and I have bought a fair amount from them. The only complaint I have is not being able to save gems. I have a lot of projects so i am in the market for a lot of different gems and it's so disappointing to have to delete them all just to purchase one or two that I have saved in my cart.
Publicado Por S.Hicks in March, 2019
Calificación General -> 10

I always check this site because they have unique options.
Publicado Por Lisa in February, 2019
Calificación General -> 10

Great website to navigate. Awesome Gem selection! Nice photos and discriptions for all of the gems for sale. You can find gems in all price ranges. Checkout was a breeze.
Publicado Por Timmy in February, 2019
Calificación General -> 10

They had an extensive gemstone selection in all different cuts, sizes, and colors. They also had very good and workable prices. All of these aspects pulled me in as a customer.
Publicado Por Josh in February, 2019
Calificación General -> 9

It all depend on the product I will receive and have it verified by my in law jewellers.
Publicado Por Vodka in February, 2019
Información sobre gemas
Piedras Preciosas Populares