Buy Opale cioccolato Gems
(2)
Classificato per:
Cancella tutto
Clicca per vedere i dettagli
1 Pezzo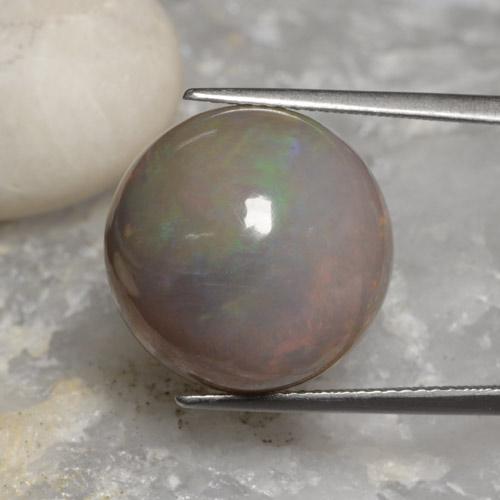 Rotondo Multicolore Opale cioccolato
11.3ct
16.2 mm
Articoli in stock
Clicca per vedere i dettagli
4 Pezzi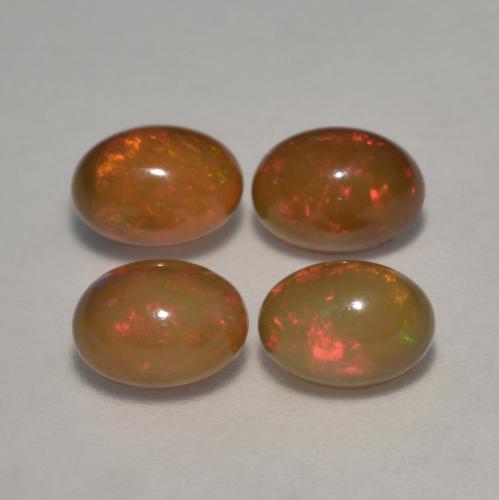 Ovale Multicolore Opale cioccolato
0.71 ct (Totale 2.83ctw)
7 x 5.1 mm
Articoli in stock
Opale cioccolato
About Chocolate Opal
Chocolate Opal is a lovely stone found in Ethiopia. It is sold like most Opal as a Cabochon cut Gemstone. It displays various base colors that can range from dark to light mimicking the shades of Chocolate hence the name Chocolate Opal. The darker base tones generally enhance the stones play-on-color but some lighter stone exhibit extraordinary effects too. Chocolate opal also is known as Ethiopian Opal has a Mohs Hardness of 5.5 – 6.5 and ranges from Opaque, Transparent, and Translucent.
How do I Buy Chocolate Opal from GemSelect?
The best way to purchase this stone is by its appearance and the stone size. Due to this and many Opal varieties rarity, it's available only in limited quantities. This particular Opal, however, is available in lots which are quite uncommon for the rarer types of Opal.
What are the advantages of buying GemSelect's Chocolate Opal?
There genuinely are numerous advantages to buying loose stones when compared to purchasing finished jewelry. One of the benefits is the ability to judge the actual quality of the gem. Another advantage is the vast selection of Gems you can choose from by purchasing online from GemSelect. Additionally, you will find that buying your Opal online from GemSelect will save you tons of money due to our affordable pricing.
What Types of Custom Designs are great for Chocolate Opal?
Chocolate Opal is perfect for Cabochon rings, and they happen to be the preferred stone for men. For men, this stone can be used in tie-tacks, cufflinks, and money clips too. Chocolate Opal is, however, a favorite stone for earrings, pendants, broaches, and pins which can be worn by ladies. Due to the full range of colors displayed by Chocolate Opal, it can be set in any precious metal as well.
Opal is, of course, the Birthstone of October and is an excellent piece of jewelry for anyone who's born in this month. In addition to birthstone jewelry, Opal is also traditionally given for the 14th year of marriage as an anniversary gift.
Recensioni dei clienti verificati
Valutazione complessiva -> 10

I am so pleased with the gems I purchased. I will recommend you to all my friends
Pubblicato da Brandi in December, 2019
Valutazione complessiva -> 10

If you are looking for lose stones at a fair price, buy from GemSelect. They send it to you in just a week.
Pubblicato da Tim in December, 2019
Valutazione complessiva -> 10

Nice inventory, decent pricing. Site is easy to navigate.
Pubblicato da Bob in December, 2019
Valutazione complessiva -> 10

I love GemSelect! Every stone that I ever purchased has been carefully packaged, and sometimes comes with origin info. The stone I just ordered is for my engagement ring, because my Fiance is making my ring! I am so amazed with the selection that this site has, and I am so impressed with the prices.
Pubblicato da KittyKat in December, 2019
Valutazione complessiva -> 9

Site layout was great. Item description was good but this is first purchase so I will have to wait and see how satisfied I am with product. But this step of process was great!
Pubblicato da Leell in December, 2019
Valutazione complessiva -> 9

i saw a program on the science channel about varieties of fluorite - a special on John 'something' from perhaps wales and varieties of colors... and i was chatting w/ friend who sent me link to your site
Pubblicato da DrLaura in December, 2019
Informazioni sulle gemme
Le pietre più conosciute