Click for Details
2 pcs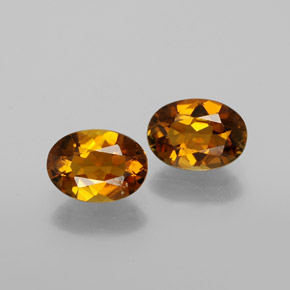 Oval Orange Tourmaline
0.78 ct (total 1.56ctw)
7 x 5.1 mm
Item in Stock
Click for Details
2 pcs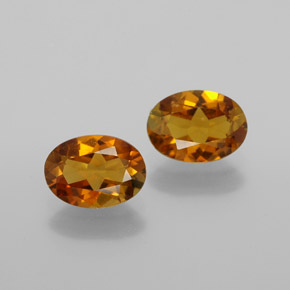 Oval Orange Tourmaline
0.70 ct (total 1.40ctw)
6.9 x 5 mm
Item in Stock
Click for Details
2 pcs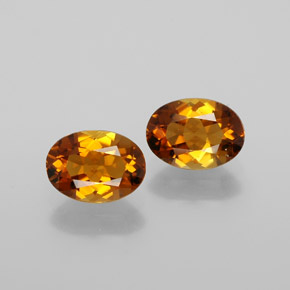 Oval Orange Tourmaline
0.77 ct (total 1.54ctw)
6.9 x 5 mm
Item in Stock
Tourmaline
Why Buy Tourmaline?
Tourmaline is a beautiful stone which has remarkable qualities that makes it an excellent choice for modern jewelry. Tourmaline comes in all hues making it unique and versatile in gemstone designs. It is also available in numerous cuts, and calibrated sizes.
Tourmaline is available at 'very affordable' prices in large sizes, and it has excellent properties making it a perfect stone for purchase! Many pieces are Bi-colored or even Tri-colored, and still, as single colored gems, GemSelects Tourmaline can represent a vast amount of range in color saturation and intensity. You will see that of all the precious stones Tourmaline is one of the most beautiful and affordable.
About GemSelect's Tourmaline
GemSelect offers a wide range of cuts in calibrated faceted and cabochon preparations, and we offer one of the largest online inventories of Tourmaline for jewelers available. Our selections are also available in expertly matched wholesale lots, meticulously matched pairs and our unique single stone selections.
The hues we provide in our collections of Tourmaline include; Bi-color stones, Black Tourmaline, Blue Tourmaline, Brown Tourmaline, Green Tourmaline, Multicolor Tourmaline, Orange Tourmaline, Pink Tourmaline, Red Tourmaline, Violet Tourmaline, and Yellow Tourmaline.
What jewelries are great for Tourmaline
Our selections are available at affordable prices, and the size ranges we supply are unmatched in making your design tasks simple. The designs that are great for Tourmaline are endless. We suggest rings and pendants for the larger rare stones that display remarkable color properties. Earrings, bracelets, broaches, and necklaces are also beautiful designs to include with this versatile stone.
Additional info about GemSelect's Tourmaline
Tourmaline on the Mohs hardness Scale is a 7-7.5 out of 10 making it quite durable and great for everyday wear and excellent for any jewelry design application. Tourmaline is 'one' of the official Birthstones of October, and it shares this honor along with Opal. Tourmaline is also the accepted stone for the 8th wedding anniversary allowing the gifter a wide range of color choices to select from when choosing a gem for this special day!
Certified Customer Reviews
Overall Rating -> 10

I always check this site because they have unique options.
Posted By Lisa in February, 2019
Overall Rating -> 10

Great website to navigate. Awesome Gem selection! Nice photos and discriptions for all of the gems for sale. You can find gems in all price ranges. Checkout was a breeze.
Posted By Timmy in February, 2019
Overall Rating -> 10

They had an extensive gemstone selection in all different cuts, sizes, and colors. They also had very good and workable prices. All of these aspects pulled me in as a customer.
Posted By Josh in February, 2019
Overall Rating -> 10

I ordered this really nice pair of Rubies from Gemselect and I love them because of all the detailed information you get. Also if you scroll down you can see other similar items single, in pairs, lots, bigger, smaller, etc and it's such an easy website to use.
Posted By Bruno in February, 2019
Overall Rating -> 10

I wasn't sure where to go to find a variety of gemstones to choose from in the size and shape that I was looking for. I'm really glad I found this website because the search options and filters made it really easy to find what I was looking for. The prices seem quite reasonable. This will be the first place I go the next time I'm looking for a gemstone!
Posted By Pink4302 in February, 2019
Overall Rating -> 9

I am impressed with the variety of the inventory and the information provided on each item. I like the pricing. The only reason I wouldn't recommend the site is I do not want to reveal my source.
Posted By Bob in February, 2019
Gemstone Information
Popular Gemstones