Click for Details
2 pcs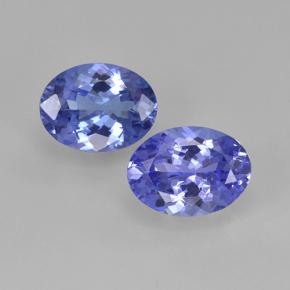 Oval Blue Tanzanite
1.50 ct (total 3.00ctw)
8.3 x 6.3 mm
Item in Stock
Click for Details
2 pcs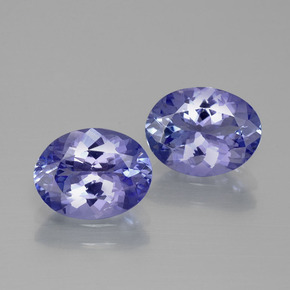 Oval Blue Tanzanite
1.69 ct (total 3.38ctw)
8.9 x 6.9 mm
Item in Stock
Click for Details
2 pcs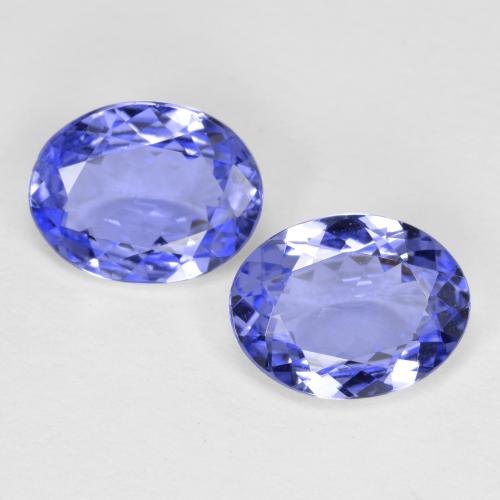 Oval Blue Tanzanite
1.62 ct (total 3.24ctw)
8.9 x 6.9 mm
Item in Stock
Tanzanite
Why Buy Tanzanite Gemstones?
Tanzanite is one of the newest gems on the market and was discovered only in 1967 in Tanzania. This lovely gem has been a worldwide success, and demand continues to exceed supply. Tanzanite is a variety of zoisite, which is a member of the epidote group. Colors include blue, purple and green. The most highly coveted color is a deep blue which shows a purple shimmer.
What are some of the properties of Tanzanite Gemstones?
Tanzanite is trichroic and exhibits pronounced pleochroism. The colors respective to the three directions are sapphire-blue, sage green, and purple. Orientation is an important consideration for cutters who need to consider both the yield and the resulting color.
What are good ways to use Tanzanite Gemstones?
Tanzanite is indeed one of the most popular gems, frequently used in gemstone rings, engagement rings - center stones and as tanzanite melee - and tanzanite is very-well suited for all other types of gemstone jewelry, including gemstone earrings, pins, and brooches, as well as in necklaces and fine gemstone pendants.
Would you like to know more about Tanzanite Gemstones?
Read our Tanzanite Information page here.
Certified Customer Reviews
Overall Rating -> 10

I found your site easy to use and I found some beautiful and interesting stones.
Posted By Pat in October, 2019
Overall Rating -> 10

Ich bin zufrieden
Posted By Verga in October, 2019
Overall Rating -> 10

Gems came with nice documentation I live alone , but am definitely going to show my gems off , thank you , gemselect Randall horch.
Posted By Randy in October, 2019
Overall Rating -> 10

Professional
Posted By Cj in October, 2019
Overall Rating -> 9

It's pretty great having a whole lot of different gemstones to choose from. When doing crafts and jewelry making, it's great to have all kinds of options, and it's amazing how much cheaper it is to just purchase un-set gemstones and make the setting yourself, as opposed to buying fully-made jewelry already. It's also extra special since you made it yourself.
Posted By Bh in October, 2019
Overall Rating -> 10

I'm so glad with this purchase. I haven't any problem. I like the documentation attached.
Posted By PepeMad in October, 2019
Gemstone Information
Popular Gemstones