Sensational, 4.2-Carat, Super-Clean, Cushion-Cut, Vivid Violet-Blue Tanzanite Gemstone

Blue Tanzanite 4.2 Carat Cushion from Tanzania Gemstone

Photos above are of Actual Item for Sale

Product ID:
412528
Type:
Tanzanite
Weight:
4.22 ct

1 gem

Size:

(more)

12.4 x 7.7 x 5.4 mm
Shape:
Cushion-Cut
Color:
Violet Blue
Clarity:
VVS
Treatment:
Heated
Origin:
Tanzania
Content:
1 pc

This Gemstone is certified
The Price above includes the certificate below!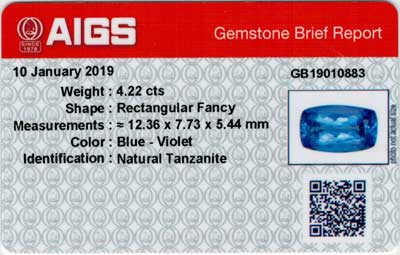 Certified Customer Reviews
Overall Rating -> 10

good value
Posted By Don in February, 2019
Overall Rating -> 10

It was super easy to browse all the gemstones and find exactly what you wanted. The prices were great and the checkout process was smooth. Seems like a great site, will definitely come back to find more in the future.
Posted By JMWatch Guy in February, 2019
Overall Rating -> 9

Ive always been pleased with quality and truth of gems rating I am a gemmologist and really like the descriptions as well . i.e cut, colour and quality Sometimes Ill choose GemSelect rather than a local wholesaler because of my regard for their quality and truth
Posted By Mango in February, 2019
Overall Rating -> 9

I will continue to utilize gemselect in my business as a jeweler.
Posted By Julie in February, 2019
Overall Rating -> 10

Very good selection, easy to navigate site and very reasonable prices. I look forward to receiving the gems and if they are everything they appeared to be I will be extremely happy. Definitely likely to purchase from this site again.
Posted By Anthony in January, 2019
Overall Rating -> 10

Good Selection, High Quality, Excellent Prices
Posted By NJD in January, 2019
Shipping and Combining Back To Top
Express Shipping: $29.90 USD Flat Rate - Full Value Insurance / Most shipments delivered within 3-4 days.
Economy Shipping: $8.90 USD Flat Rate - Insured for up to $200 USD / Most shipments delivered within 7-14 days.

Free Combining of orders - No extra shipping fees.
Pay one flat rate shipping fee for all items per transaction / shipment.
No minimum and no maximum order value.
Order as many items as you like and still pay only one single low flat rate shipping fee starting at $8.90 (Economy) or $29.90 (Express).
Payment Options
Credit Card
PayPal
Western Union
Bank transfer
Guarantee / Certification
All gemstones are natural!
All photos and videos are of the actual gem for sale (No Stock Photos)
We offer certification from AIGS for USD 30.00 (5-10 additional days)
We also offer certification from the BGL lab for USD 15.00 only (3-4 days)
Size and Weight Back To Top
Gems are always measured in Millimeter (mm)
Compare mm Size with US coins
Dimensions are given as length x width x depth, except for round stones which are diameter x depth
Select gems by size, not by weight! Gem varieties vary in density, so carat weight is not a good indication of size
Note: 1ct = 0.2g
Additional Quantities
Every item is unique, so you can only order 1 of each item
However, we often have similar or matching items. If so, we display them on the same gem detail page
Clarity Explained Back To Top
IF = Loupe Clean - Internally flawless; free of inclusions
VVS = Almost Loupe Clean - Very, very slight inclusions; inclusions barely seen under 10x magnification
VS = Eye Clean - Very slight inclusions; inclusions can be seen under 10x magnification
SI = Slightly included - Small inclusions can be seen with the naked eye
I1 = Included - Inclusions can be seen with the naked eye
Transparent = A gemstone having the property of transmitting light without serious diffusion / may have rutile or other inclusions
Translucent = Allowing light to pass through, but not transparent
Opaque = Does not allow light to pass through
Return Policy
All gems have a 30-day inspection period, which begins on the date of delivery. Gems may be returned for a full refund during this period.
Please email us for return authorization code when returning a gem.
For more details click here
Treatment Back To Top
Heated:

Heating a gemstone to high temperatures sometimes improves the color and clarity. This treatment is common for sapphire, ruby, tanzanite, apatite and blue zircon. More about treatments
Gemstone Information
Popular Gemstones