Click for Details
1 pc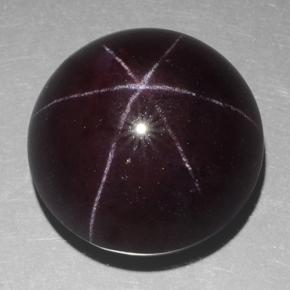 Round Black Star Garnet
47.5ct
18.6 mm
Item in Stock
Star Garnet
Why buy Star Garnet Gemstones?
Garnets have been widely known for thousands of years. Although the color red occurs most frequently, there are also garnets showing different shades of green, pale to bright yellow, fiery orange and fine earth and umbra shades. Blue has been the only color that is not available in garnet, but recently color-change garnets from Madagascar have been found in blue.
What are some of the properties of Star Garnet Gemstones?
Garnet has very good hardness and a high refractive index. Garnets are quite sturdy and resistant to everyday wear and tear, and uncomplicated to work into jewelry. Garnets qualify for any cut and come in various shapes and offer an affordable price per carat weight. Garnets are almost always untreated.
What are good ways to use Star Garnet Gemstones?
Star garnet is a rare and unusual garnet, found only in Idaho in the USA and in India. It displays a four-rayed star due to aligned inclusions of rutile. They are great for use in rings, pendants, and broaches.
Want to know more about Garnet Gemstones?
Read our Garnets Information Page here.
Certified Customer Reviews
Overall Rating -> 10

I always check this site because they have unique options.
Posted By Lisa in February, 2019
Overall Rating -> 10

Great website to navigate. Awesome Gem selection! Nice photos and discriptions for all of the gems for sale. You can find gems in all price ranges. Checkout was a breeze.
Posted By Timmy in February, 2019
Overall Rating -> 10

They had an extensive gemstone selection in all different cuts, sizes, and colors. They also had very good and workable prices. All of these aspects pulled me in as a customer.
Posted By Josh in February, 2019
Overall Rating -> 10

I ordered this really nice pair of Rubies from Gemselect and I love them because of all the detailed information you get. Also if you scroll down you can see other similar items single, in pairs, lots, bigger, smaller, etc and it's such an easy website to use.
Posted By Bruno in February, 2019
Overall Rating -> 10

I wasn't sure where to go to find a variety of gemstones to choose from in the size and shape that I was looking for. I'm really glad I found this website because the search options and filters made it really easy to find what I was looking for. The prices seem quite reasonable. This will be the first place I go the next time I'm looking for a gemstone!
Posted By Pink4302 in February, 2019
Overall Rating -> 9

I am impressed with the variety of the inventory and the information provided on each item. I like the pricing. The only reason I wouldn't recommend the site is I do not want to reveal my source.
Posted By Bob in February, 2019
Gemstone Information
Popular Gemstones