Captivating, 4.2-Carat, Untreated, Oval Yellowish-Green Sphene Gemstone from Sri Lanka

4.2 Carat Green Sphene Gem from Sri Lanka Natural and Untreated

Photos above are of Actual Item for Sale

On-Time Delivery:
9.4 out of 10

Product Availability:
9.6 out of 10

Product Met Expectations:
9.0 out of 10

9.4 out of 10

Product ID:
353272
Type:
Sphene
Weight:
4.18 ct

1 gem

Size:

(more)

10.4 x 7.8 x 6.4 mm
Shape:
Oval Facet
Color:
Green
Clarity:
SI
Treatment:
Untreated
Origin:
Sri Lanka
Content:
1 pc

Certificate Options

Download Identification Report PDF

This Gemstone is certified
The Price above includes the certificate below!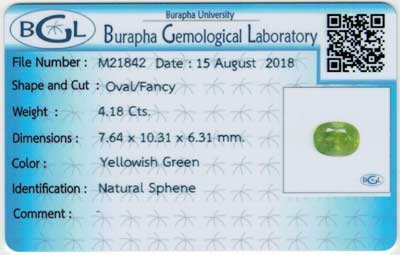 Compare Similar or Matching Item!
Certified Customer Reviews
Overall Rating -> 10

man their gems are pretty good, and the prices aren't to bad either, I like checking out hte gems on there website, beceause the pictures of the gems are taken pretty well, and you can see the table, and the facets.
Posted By Spinach in March, 2019
Overall Rating -> 10

I love gemselect and I have bought a fair amount from them. The only complaint I have is not being able to save gems. I have a lot of projects so i am in the market for a lot of different gems and it's so disappointing to have to delete them all just to purchase one or two that I have saved in my cart.
Posted By S.Hicks in March, 2019
Overall Rating -> 10

I always check this site because they have unique options.
Posted By Lisa in February, 2019
Overall Rating -> 10

Great website to navigate. Awesome Gem selection! Nice photos and discriptions for all of the gems for sale. You can find gems in all price ranges. Checkout was a breeze.
Posted By Timmy in February, 2019
Overall Rating -> 10

They had an extensive gemstone selection in all different cuts, sizes, and colors. They also had very good and workable prices. All of these aspects pulled me in as a customer.
Posted By Josh in February, 2019
Overall Rating -> 9

It all depend on the product I will receive and have it verified by my in law jewellers.
Posted By Vodka in February, 2019
Shipping and Combining Back To Top
Express Shipping: $29.90 USD Flat Rate - Full Value Insurance / Most shipments delivered within 3-4 days.
Economy Shipping: $8.90 USD Flat Rate - Insured for up to $200 USD / Most shipments delivered within 7-14 days.

Free Combining of orders - No extra shipping fees.
Pay one flat rate shipping fee for all items per transaction / shipment.
No minimum and no maximum order value.
Order as many items as you like and still pay only one single low flat rate shipping fee starting at $8.90 (Economy) or $29.90 (Express).
Payment Options
Credit Card
PayPal
Western Union
Bank transfer
Guarantee / Certification
All gemstones are natural!
All photos and videos are of the actual gem for sale (No Stock Photos)
We offer certification from AIGS for USD 30.00 (5-10 additional days)
We also offer certification from the BGL lab for USD 15.00 only (3-4 days)
Size and Weight Back To Top
Gems are always measured in Millimeter (mm)
Compare mm Size with US coins
Dimensions are given as length x width x depth, except for round stones which are diameter x depth
Select gems by size, not by weight! Gem varieties vary in density, so carat weight is not a good indication of size
Note: 1ct = 0.2g
Additional Quantities
Every item is unique, so you can only order 1 of each item
However, we often have similar or matching items. If so, we display them on the same gem detail page
Clarity Explained Back To Top
IF = Loupe Clean - Internally flawless; free of inclusions
VVS = Almost Loupe Clean - Very, very slight inclusions; inclusions barely seen under 10x magnification
VS = Eye Clean - Very slight inclusions; inclusions can be seen under 10x magnification
SI = Slightly included - Small inclusions can be seen with the naked eye
I1 = Included - Inclusions can be seen with the naked eye
Transparent = A gemstone having the property of transmitting light without serious diffusion / may have rutile or other inclusions
Translucent = Allowing light to pass through, but not transparent
Opaque = Does not allow light to pass through
Return Policy
All gems have a 30-day inspection period, which begins on the date of delivery. Gems may be returned for a full refund during this period.
Please email us for return authorization code when returning a gem.
For more details click here
Treatment Back To Top
:
More about treatments
Gemstone Information
Popular Gemstones