Comprar Turmalina Piedras Preciosas
(2)
Ver Detalles
2 Pzs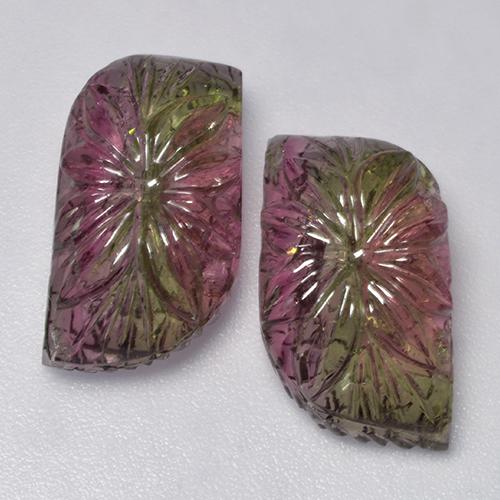 Corte Flor Bicolor Turmalina
8.48 ct (Total 16.95ctw)
18.1 x 9.4 mm
Artículo en inventario
Ver Detalles
2 Pzs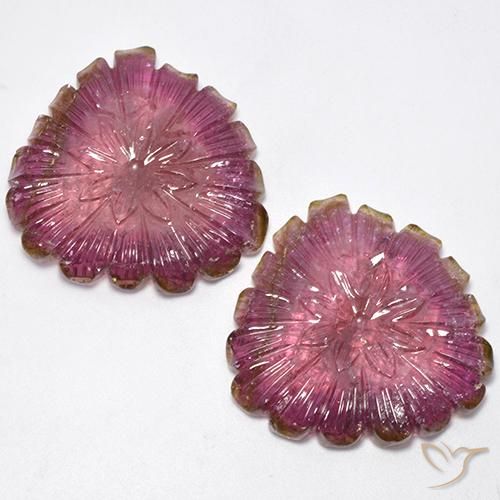 Corte Flor Bicolor Turmalina
38.58 ct (Total 77.16ctw)
33.6 x 33.3 mm
Artículo en inventario
Turmalina
Turmalina proviene del término cingalés "turamali" que significa "piedra de muchos colores". El nombre hace referencia al espectro de colores únicos exhibidos por esta piedra preciosa, siendo inigualable en el mundo de las piedras preciosas. Como unas de las piedras preciosas más versátiles, la turmalina está disponible en todos los colores, de incoloro a negro. Puede mostrar cada tone desde pastel hasta oscuro, y puede exhibir varios colores en la misma piedra. El gran número de colores diferentes de la turmalina significa que esta piedra puede confundirse fácilmente casi con cualquier otra piedra. En el siglo 17 se creía que muchas piedras en la joyas de la corona rusa eran rubíes cuando en realidad eran turmalinas. Otra característica única de la turmalina es que puede cargarse electrónicamente mediante calor o frío, o puede aplicarse presión frotando la piedra. Los holandeses, quienes importaron turmalinas a comienzos del siglo 17 desde Sri Lanka, descubrieron esa especialidad y la usaron para retirar la ceniza de sus pipas de espuma de mar. Nombraron a la turmalina "aschentrekker" o "extractor de ceniza". La turmalina posee una alta claridad, tiene muy pocas inclusiones y es bastante durable (calificación de 7-7.5 en al escala de dureza Mohs), todo esto hace que la turmalina sea una compra muy atractiva. En realidad la turmalina es una de las variedades de piedras preciosas más populares, y se usa frecuentemente en anillos. Todas las turmalinas también son idóneas para otros tipos de joyería, incluyendo pendientes, pines y broches, así como también collares y colgantes de moda.
Comentarios certificados de los clientes
Calificación General -> 10

Good business
Publicado Por Cj in September, 2019
Calificación General -> 10

I always show off my gems and jewlery...I always show people the site and gems...I love the mineral rocks and stones..
Publicado Por Beto in September, 2019
Calificación General -> 10

I love the quality and prices of the large gemstones.
Publicado Por Tom in September, 2019
Calificación General -> 10

Ask questions and received quick response.
Publicado Por Brenda in September, 2019
Calificación General -> 8

I would recommend this site to my friends...
Publicado Por LX in September, 2019
Calificación General -> 9

I found a beautiful pink sapphire that's almost a carat for under $80! There's no way you can find that kind of value anywhere else.
Publicado Por Lisa C in September, 2019
Información sobre gemas
Piedras Preciosas Populares