Met Gala 2015 Gems
The Met Museum in New York
Who wore what on the red carpet is always a talking point and one of the latest events of 2015 was the Met Gala. This is also known as the Costume Institute Gala or the Met Ball. It is an annual event whereby funds are raised for the Costume Institute of New York's Metropolitan Museum of Art. As expected, such an event celebrates beautiful and sometimes outlandish costumes, which follow a different theme each year. This year's theme was "China: Through the Looking Glass", the name of a current exhibition that runs until August 16, 2015 and explores the effect of Chinese art on Western fashion.
Some of the most talked about gowns at this year's Met Gala were the gold hooded Ralph Lauren gown worn by Anne Hathaway and Rihanna's imperial yellow cape with an enormous train that reportedly took two years for Guo Pei to make by hand. The gowns are always much anticipated and celebrated, but what about the jewels? We at GemSelect are more interested in the gems and jewelry worn at this year's Met Gala. So, let's take a look at some of the colored gems that were seen on the red carpet. With the theme of "China: Through the Looking Glass", we would expect to see pearls, jade and other Chinese gemstones. Mother-of-pearl was also worn by some, especially in Rihanna's dramatic headpiece, along with yellow gold, red gems and white gems.
Sarah Jessica Parker wore jade bangles with diamonds and a modern twist by Jennifer Fisher. But the talking point of her ensemble was her Philip Treacy headpiece, which was reminiscent of headdresses worn by Chinese hill tribes, adorned with jade beads, silver and red pom-poms. A bold headpiece was also worn by Lady Gaga, which glittered with black jewels. Lady Gaga's Fred Leighton earrings were fashioned from carved black jade, coral and diamonds. Zendaya also wore a large, mixed metal gold and silver tiara with a sun-inspired design and a bracelet to match.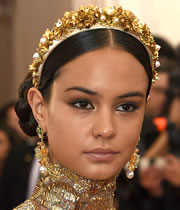 Courtney Eaton's Gold and Pearl Crown
Courtney Eaton's headpiece was more like a headband that was encrusted with golden flowers and pearls. The headpiece was twinned with gold, green gemstone and pearl dangle earrings. Karen Elson's headpiece was an elaborate Dolce and Gabbana golden flowered affair, studded with the odd colored gemstone. She wore gold earrings with large purple gems and a gold necklace of large red stones interspersed with white accent gems. As if this was not enough, the bodice of her gown was also encrusted with colored gems. Finally, Tabitha Simmons also wore a golden Dolce and Gabbana ensemble which featured pearls on the bodice and a large golden headdress studded with white gemstones. For those who did not dare to wear a bold crown or tiara, more subtle hair decorations were worn, such as Wendi Murdoch's Cindy Chao gold and gemstone hair clips.
Some stars kept their hair and jewelry simple, but wore gemstones on their dresses. For example, Olivia Wilde wore a pink Prada gown with turquoise and other colored jewels sewn into it. Her long gloves and clutch bag also had gems sewn on. Vanessa Hudgens likewise wore a gemstone embellished gown by H&M. Rose Byrne's interesting Calvin Klein red leather dress was embellished with red jasper and agate cabochons. However, when it comes to jeweled gowns, the most show-stopping item was the sheer jeweled Givenchy gown worn by Beyoncé, which had jewels in strategic places, leaving very little to the imagination.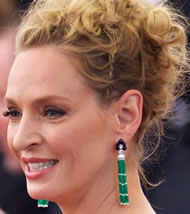 Uma Thurman's Green Gemstone Tassel Earrings
Tasseled earrings and embellishments were also popular at the Met Gala. Uma Thurman wore beautiful green bead tassel earrings with diamond accent stones and black gemstones, by Anna Hu. Gong Li also showed off tassel earrings, with what appeared to be blue sapphire beads and emeralds. Sienna Miller's tassel earrings were black, matching the tassels on her clothes, with white pearls on top. Gold tasseled earrings were chosen by some.
Blue sapphires were seen on several of the stars, such as the Anna Hu "orchid" earrings worn by Emily Blunt, and Ivanka Trump's yellow diamond and blue sapphire rose-design earrings by Cindy Chao. Chloe Sevigny completed her look with a Cartier blue sapphire and white diamond choker. Along with her Giles dress, Solange Knowles wore Cartier blue sapphire earrings. But the most interesting blue sapphire jewelry was worn by Alicia Keys in the form of a large blue sapphire dragonfly ring, large cushion-cut sapphire and diamond earrings. These accompanied a floral design, colored gemstone hair clip. Sapphire's close cousin; ruby was worn by Gabrielle Union and Lizzy Caplan as rings.
To sum up, the main jewelry trends of this year's Met Gala appeared to be head and hair ornaments, jeweled gowns, tassels and yellow gold. Perhaps if you are planning to attend a special event, the Met Gala 2015 trends may provide you with the vision to help create an inspiring new look. As is often the case with works of art and gowns produced by fashion houses, jewelry designs are also often inspired by diverse cultures around the world, and China provided the inspiration for the wonderful creations of the 2015 Met Gala.