Blinged Out Rides and Dazzling Drives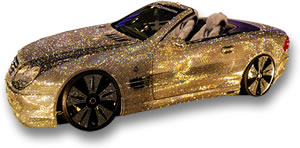 D.A.D Crystal-Encrusted Mercedes Benz
Some like to hang a crystal or two on their rear-view mirror to bring them luck and protection when traveling in their car. It is said that hematite prevents travel sickness and tiger's eye provides protection. In some countries, amulets and decorations that are displayed for safety and protection seem to vie for visibility in front of the windscreen. In other places, the decorations are on the outside, in the ultimate show of wealth.
Incredible Costly Cars
Daria Radionova of Russia went for the dazzling look when she had her Mercedes encrusted with Swarovski crystals, which turned out to be a good investment, since she made a rather large profit on eBay when she sold it. A gold-plated Hummer bumper takes "grillz" to a new level with its 24k-plated parts by RealGold. However, an extremely wealthy Saudi Arabian has gone even further and had a whole fleet of vehicles plated in gold. Indeed, Saudi Arabians are known for owning some of the most sumptuous vehicles. One 1959 Mercedes Golden Angel Wing was re-designed and customized to appear like an Arabian palace by a member of Royalty, and then gifted to boxing legend, Mohammed Ali, before being offered for sale. The car is embellished with gold, rubies, diamonds, emeralds and sapphires. The interior also features mink trim and Islamic art. Another magnificent Mercedes is a McLaren SLR 999, which has been gold plated and decorated with rubies. Swiss designer, Ueli Anliker will accept $11 million from those interested in acquiring the "Red Gold Dream".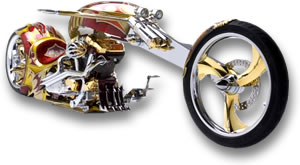 Sam Nehme's Nehmesis
Ritzy Riders
The same designer responsible for the "Red Gold Dream" has a whole series of dazzling vehicles varying on the same theme, including a chopper also called the "Red Gold Dream" and a Honda CBX called "Miss Red Six Sexy". A more masculine ride is the gold-plated Nehmesis by Sam Nehme of BMS Choppers, which won the 2006 Biketoberfest Rats Hole award. It is a 3.5 meter-long mean machine with a 1700 cc Yamaha Road Star engine, a red velvet seat and a price tag of $500,000. Yet, it is not for sale and was custom-built for Sam Nehme himself. He has since begun creating a "Drum Bike"; a trike with a fully-operational drum set. For those more interested in performance, the NCR Leggera 1200 is worth a look. Its frame is handmade from titanium and the brakes are composed of carbon fiber, making it very lightweight. Bling bicycles include Goldegenie's 24K Gold Men's Racing Bike for over $350,000 US, which has gold plating right down to the cogs and chain.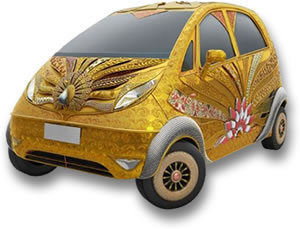 The Goldplus Tata Nano
Extravagant Art on Wheels
Some vehicles showcase artwork. For example, Su Zhongyang's Jiu Jiu Xiang Long (ninety-nine auspicious dragons) ivory car is embellished with ivory dragons carved from mammoth ivory and yak bone. The dragons are believed to be lucky and bring the weight of the car to 2 tons. The car is also decorated with gold and diamonds. Another notable piece or artwork on wheels is the ASI Bentley Continental GTR Gold with hand painted Nakamura Tetsuei artwork on the hood. The Indian budget car manufacturer, Tata revealed its tribute to Indian craftsmanship: a gold, silver and gemstone encrusted Goldplus Nano. The small car is covered with 80 kg of gold, 15 kg of silver and 10,000 gemstones. The car showcases traditional Indian jewelry techniques, including meenakari and kundan work.
One wonders about the insurance cost for such racy rides. For those of us without the millions to spend on pimping our rides, we can satisfy our desire for bling with accessories, such as sparkly stickers, rhinestone badges and shiny rims. Yet, however ritzy your ride, you will still not be able to avoid traffic police; the aforementioned Saudi Arabian billionaire incurred parking charges of several hundred dollars for parking his gold vehicles just meters away from a municipal parking lot. In a show of humor, a less flush local attracted attention by wrapping his Ford Ka in gold paper and parking it next to the gold supercars.
First Published: April-27-2016
Last Updated: January-22-2019
© 2005-2022 GemSelect.com all rights reserved. Reproduction (text or graphics) without the express written consent of GemSelect.com (SETT Company Ltd.) is strictly prohibited.