Rocks for Pops: Father's Day 2018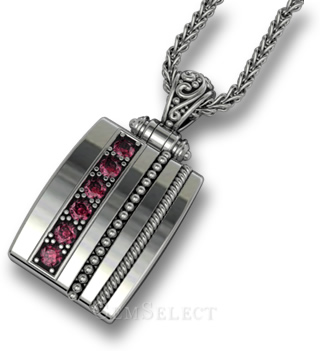 Dog Tag Gemstone Pendant Necklace
Mother's rings are popular for moms, but what about our dear old dads? With Father's Day coming up, there's no need for the men in our lives to miss out on all the gemstone jewelry action. Some of the great options for men include beaded bracelets, stud earrings, pendant necklaces, cuff links, tie tacks, and gemstone rings. Jewelry for dads often feature popular men's gems, family birthstones, zodiac stones, gems with meanings, as well as gemstones in their favorite colors.
Some of the most popular gems for men are cabochons, which are perfect for rings, bracelets, and pendant necklaces. Based on our many years of experience, some of the best gems for men's jewelry include tiger's eye, cat's eyes, jadeite, black opal, jasper, agate, and lapis lazuli. Other lesser-known gems which are also ideal for men's jewelry include obsidian, maw-sit-sit, pietersite, labradorite, spectrolite, and serpentine.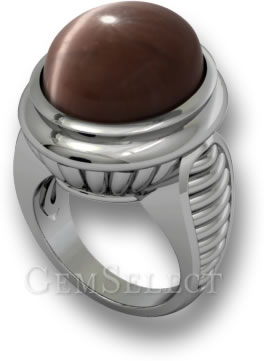 Men's Cat's Eye Gemstone Ring
If you would like to add a personal touch and are new to jewelry making, try making Dad your own beaded bracelet with family birthstones. This can be a lot of fun and even the kids can help and join in on the family fun. All it requires is some simple string, elastic, or jewelry wire, as well as a handful of drilled gemstone beads. Stringing bracelets with elastic bands is probably the simplest jewelry-making method, especially since they don't require clasps.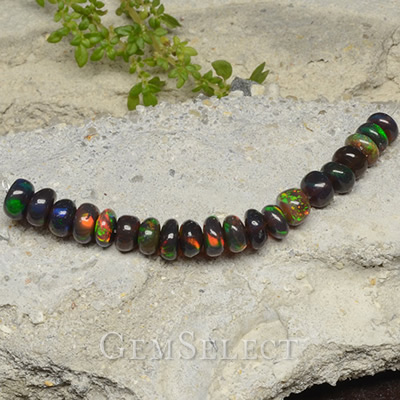 Black Opal Beads
For trendy dads who like a bit of bling with their fashion, there's a huge variety of faceted stones available that are perfect for thumb and pinky rings. Faceted gems are great for dog tag pendant necklaces and earring studs. For many ring and pendant designs, small accent stones will often suffice. For dog tags, just one or two stones are ideal, but rings and pendant may require multi-piece matching gemstone sets or lots. For earring studs, larger single stones or matching pairs are called for. Diamond-cut round gemstones are most common when it comes to studs, but other shapes can also make for a unique and interesting look. With over 100 different gem types available and a whole rainbow of colors to choose from, you'll find no shortage of options when it comes to finding gems for Dad.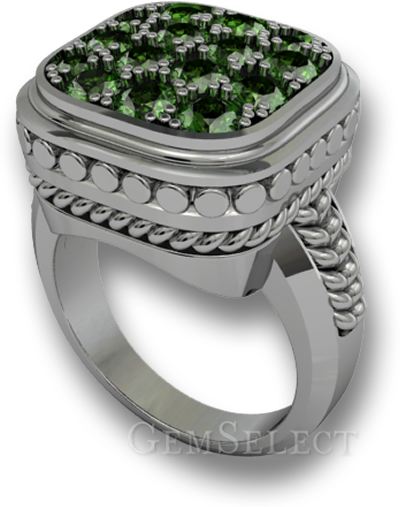 Men's Tsavorite Garnet Ring
While many countries celebrate Father's Day on the 3rd Sunday in June, including the UK, the US, Canada, Japan, Chile, and India, Father's Day is celebrated during other months by many other nations. Lithuania has Father's Day the 1st Sunday in June, while Belgium celebrates Father's Day on the 2nd Sunday in June. Australia, New Zealand, and Sweden celebrate Father's Day the 1st Sunday in September. In Germany, the first Thursday 40 days after Easter is a public holiday known as Ascension Day, which is their version of Father's Day. Denmark, Norway, and Finland honor fathers on the 2nd Sunday in November. In Thailand, Father's Day is honored on December 5th, and in Taiwan, Father's Day is celebrated on August 8th.
No matter which day you celebrate Father's day, we would like to wish all the dads, grandfathers, and those who've taken on the role of Dad, including uncles, siblings, as well as single mothers, a very happy Father's Day!