Specific Gravity Chart
Specific gravity is a way to express the relative density of a gemstone. It is measured as the ratio of the density of the gemstone to the density of water. It is expressed as a number that indicates how much heavier the gemstone is compared to an equal volume of water.
Scientifically, specific gravity is defined as a ratio of the mass of a given material to the mass of an equal volume of water at 4 degrees centigrade. Most gemstone substances are two to four times denser than an equal volume of water. Specific gravities are expressed in decimal numbers, for example, 4.00 for corundum, 3.52 for diamond , and 2.72 for quartz. Zircon, one of the densest of all gemstones, may have a specific gravity as high as 4.73!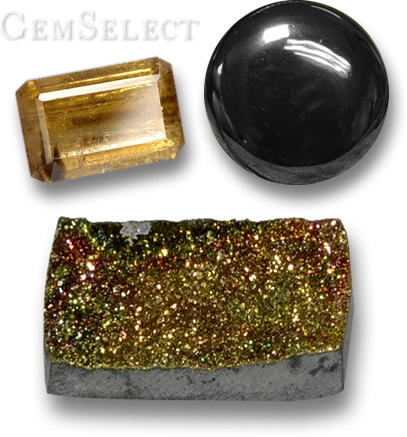 Specific gravity is an important tool in gemstone identification that is useful for the gem buyer as well as the gemologist. A 1-carat stone with higher specific gravity will be smaller than a 1-carat stone with lower specific gravity. So don't be surprised when the sapphire you buy is smaller than your diamond. That's because sapphire has a higher specific gravity. On the other hand, the 5-carat tourmaline you buy might be larger than you expected, because tourmaline has a fairly low specific gravity.
The following chart lists the specific gravity of 145 varieties of gemstones, arranged in descending order.
Cassiterite

Specific Gravity

Chemical Composition

Crystal Structure
Hematite

Specific Gravity

Chemical Composition

Crystal Structure
Rainbow Pyrite

Specific Gravity

Chemical Composition

Crystal Structure
Spessartite Garnet

Specific Gravity

Chemical Composition

Manganese aluminium silicate

Crystal Structure
Smithsonite

Specific Gravity

Chemical Composition

Crystal Structure
Star Ruby

Specific Gravity

Chemical Composition

Crystal Structure
Ruby

Specific Gravity

Chemical Composition

Crystal Structure
Color Change Sapphire

Specific Gravity

Chemical Composition

Crystal Structure
Sapphire

Specific Gravity

Chemical Composition

Crystal Structure
Star Sapphire

Specific Gravity

Chemical Composition

Crystal Structure
Almandine Garnet

Specific Gravity

Chemical Composition

Crystal Structure
Zircon

Specific Gravity

Chemical Composition

Crystal Structure
Sphalerite

Specific Gravity

Chemical Composition

Crystal Structure
Rhodolite Garnet

Specific Gravity

Chemical Composition

Magnesium aluminum silicate

Crystal Structure
Gaspeite

Specific Gravity

Chemical Composition

Nickel magnesium iron carbonate

Crystal Structure
Melanite

Specific Gravity

Chemical Composition

Crystal Structure
Chrysoberyl Cat's Eye

Specific Gravity

Chemical Composition

Beryllium aluminium oxide

Crystal Structure
Alexandrite

Specific Gravity

Chemical Composition

Crystal Structure
Azurite

Specific Gravity

Chemical Composition

Crystal Structure
Demantoid Garnet

Specific Gravity

Chemical Composition

Crystal Structure
Chrysoberyl

Specific Gravity

Chemical Composition

Beryllium aluminium oxide

Crystal Structure
Hessonite Garnet

Specific Gravity

Chemical Composition

Calcium aluminum silicate

Crystal Structure
Color-Change Garnet

Specific Gravity

Chemical Composition

Magnesium aluminum silicate

Crystal Structure
Pyrope Garnet

Specific Gravity

Chemical Composition

Magnesiium aluminum silicate

Crystal Structure
Star Garnet

Specific Gravity

Chemical Composition

Crystal Structure
Grossularite Garnet

Specific Gravity

Chemical Composition

Calcium aluminum silicate

Crystal Structure
Mali Garnet

Specific Gravity

Chemical Composition

Calcium aluminum silicate

Crystal Structure
Tsavorite Garnet

Specific Gravity

Chemical Composition

Calcium aluminum silicate

Crystal Structure
Spinel

Specific Gravity

Chemical Composition

Magnesium aluminium oxide

Crystal Structure
Kyanite

Specific Gravity

Chemical Composition

Crystal Structure
Sphene

Specific Gravity

Chemical Composition

Calcium titanium silicate

Crystal Structure
Diamond

Specific Gravity

Chemical Composition

Crystal Structure
Topaz

Specific Gravity

Chemical Composition

Crystal Structure
Mystic Topaz

Specific Gravity

Chemical Composition

Crystal Structure
Imperial Topaz

Specific Gravity

Chemical Composition

Crystal Structure
Azotic Topaz

Specific Gravity

Chemical Composition

Crystal Structure
Rutile Topaz

Specific Gravity

Chemical Composition

Crystal Structure
Rhodochrosite

Specific Gravity

Chemical Composition

Crystal Structure
Rhodonite

Specific Gravity

Chemical Composition

Crystal Structure
Ruby in Zoisite

Specific Gravity

Chemical Composition

Rock containing zoisite, ruby and hornblende

Crystal Structure
Tanzanite

Specific Gravity

Chemical Composition

Calcium aluminium silicate

Crystal Structure
Idocrase

Specific Gravity

Chemical Composition

Complex calcium aluminum silicate

Crystal Structure
Cat's Eye Diaspore

Specific Gravity

Chemical Composition

Crystal Structure
Hemimorphite

Specific Gravity

Chemical Composition

Hydrous basic zinc silicate

Crystal Structure
Color Change Diaspore

Specific Gravity

Chemical Composition

Crystal Structure
Peridot

Specific Gravity

Chemical Composition

Crystal Structure
Axinite

Specific Gravity

Chemical Composition

Calcium aluminum borate silicate

Crystal Structure
Dumortierite Quartz

Specific Gravity

Chemical Composition

Aluminum borate silicate intergrown with quartz

Crystal Structure
Malachite

Specific Gravity

Chemical Composition

Crystal Structure
Sillimanite Cat's Eye

Specific Gravity

Chemical Composition

Crystal Structure
Chrome Diopside

Specific Gravity

Chemical Composition

Calcium magnesium silicate

Crystal Structure
Tashmarine Diopside

Specific Gravity

Chemical Composition

Calcium magnesium silicate

Crystal Structure
Star Diopside

Specific Gravity

Chemical Composition

Calcium manganese silicate

Crystal Structure
Hiddenite

Specific Gravity

Chemical Composition

Lithium aluminum silicate

Crystal Structure
Apatite

Specific Gravity

Chemical Composition

Basic fluoro- and chloro-calicum phosphate

Crystal Structure
Cat's Eye Apatite

Specific Gravity

Chemical Composition

Basic fluoro- and chloro-calicum phosphate

Crystal Structure
Spodumene

Specific Gravity

Chemical Composition

Lithium aluminum silicate

Crystal Structure
Kunzite

Specific Gravity

Chemical Composition

Lithium aluminum silicate

Crystal Structure
Clinohumite

Specific Gravity

Chemical Composition

Crystal Structure
Andalusite

Specific Gravity

Chemical Composition

Crystal Structure
Fluorite

Specific Gravity

Chemical Composition

Crystal Structure
Nuummite

Specific Gravity

Chemical Composition

Rock containing gedrite and anthophyllite

Crystal Structure

Lamellar fibrous structure
Danburite

Specific Gravity

Chemical Composition

Crystal Structure
Jadeite

Specific Gravity

Chemical Composition

Basic calcium magnesium iron silicate

Crystal Structure
Nephrite Jade

Specific Gravity

Chemical Composition

Calcium magnesium iron silicate

Crystal Structure
Tourmaline

Specific Gravity

Chemical Composition

Silicate compounded with aluminium, iron, magnesium, sodium, lithium or potassium

Crystal Structure
Chrome Tourmaline

Specific Gravity

Chemical Composition

Silicate compounded with aluminium, iron, magnesium, sodium, lithium or potassium

Crystal Structure
Prehnite

Specific Gravity

Chemical Composition

Basic calcium aluminum silicate

Crystal Structure
Paraiba Tourmaline

Specific Gravity

Chemical Composition

Silicate compounded with aluminium, iron, magnesium, sodium, lithium or potassium

Crystal Structure
Cat's Eye Tourmaline

Specific Gravity

Chemical Composition

Silicate compounded with aluminium, iron, magnesium, sodium, lithium or potassium

Crystal Structure
Lepidolite

Specific Gravity

Chemical Composition

Potassium lithium aluminum fluoro-silicate

Crystal Structure
Verdite

Specific Gravity

Chemical Composition

Crystal Structure
Sugilite

Specific Gravity

Chemical Composition

Potassium sodium lithium iron manganese aluminium

Crystal Structure
Ammolite

Specific Gravity

Chemical Composition

Mainly aragonite (with calcite, silica and pyrite)

Crystal Structure
Larimar

Specific Gravity

Chemical Composition

Hydrated sodium calcium silicate with manganese

Crystal Structure
Calcite

Specific Gravity

Chemical Composition

Crystal Structure
Aquamarine

Specific Gravity

Chemical Composition

Aluminium beryllium silicate

Crystal Structure
Cat's Eye Aquamarine

Specific Gravity

Chemical Composition

Aluminum beryllium silicate

Crystal Structure
Beryl

Specific Gravity

Chemical Composition

Aluminium beryllium silicate

Crystal Structure
Emerald

Specific Gravity

Chemical Composition

Aluminium beryllium silicate

Crystal Structure
Goshenite

Specific Gravity

Chemical Composition

Aluminum beryllium silicate

Crystal Structure
Andesine Labradorite

Specific Gravity

Chemical Composition

Sodium calcium aluminum silicate

Crystal Structure
Morganite

Specific Gravity

Chemical Composition

Aluminium beryllium silicate

Crystal Structure
Amethyst

Specific Gravity

Chemical Composition

Crystal Structure
Rose Quartz

Specific Gravity

Chemical Composition

Crystal Structure
Ametrine

Specific Gravity

Chemical Composition

Crystal Structure
Citrine

Specific Gravity

Chemical Composition

Crystal Structure
Quartz Cat's Eye

Specific Gravity

Chemical Composition

Crystal Structure
Rutile Quartz

Specific Gravity

Chemical Composition

Silicon dioxide with titanium inclusions

Crystal Structure
Onyx

Specific Gravity

Chemical Composition

Crystal Structure
Smoky Quartz

Specific Gravity

Chemical Composition

Crystal Structure
Strawberry Quartz

Specific Gravity

Chemical Composition

Silicon dioxide with iron oxide inclusions

Crystal Structure
Mystic Quartz

Specific Gravity

Chemical Composition

Crystal Structure
Quartz

Specific Gravity

Chemical Composition

Crystal Structure
Labradorite

Specific Gravity

Chemical Composition

Sodium calcium aluminum silicate

Crystal Structure
Aventurine

Specific Gravity

Chemical Composition

Crystal Structure
Star Sunstone

Specific Gravity

Chemical Composition

Sodium calcium aluminum silicate

Crystal Structure
Sunstone

Specific Gravity

Chemical Composition

Sodium calcium aluminium silicate

Crystal Structure
Pietersite

Specific Gravity

Chemical Composition

Crystal Structure
Agate

Specific Gravity

Chemical Composition

Crystal Structure
Fossil Coral

Specific Gravity

Chemical Composition

Crystal Structure
Pearl

Specific Gravity

Chemical Composition

Crystal Structure
Coral

Specific Gravity

Chemical Composition

Crystal Structure
Agate Geode

Specific Gravity

Chemical Composition

Crystal Structure
Chrysoprase

Specific Gravity

Chemical Composition

Crystal Structure
Iolite

Specific Gravity

Chemical Composition

Magnesium aluminum silicate

Crystal Structure
Tiger's Eye Matrix

Specific Gravity

Chemical Composition

Rock containing layers of quartz and iron oxide

Crystal Structure
Dendritic Agate

Specific Gravity

Chemical Composition

Crystal Structure
Fire Agate

Specific Gravity

Chemical Composition

Crystal Structure
Chalcedony

Specific Gravity

Chemical Composition

Crystal Structure
Star Rose Quartz

Specific Gravity

Chemical Composition

Crystal Structure
Peanut Wood

Specific Gravity

Chemical Composition

Crystal Structure
Carnelian

Specific Gravity

Chemical Composition

Crystal Structure
Bloodstone

Specific Gravity

Chemical Composition

Crystal Structure
Tiger's Eye

Specific Gravity

Chemical Composition

Crystal Structure
Scapolite

Specific Gravity

Chemical Composition

Sodium calcium aluminium silicate

Crystal Structure
Cat's Eye Scapolite

Specific Gravity

Chemical Composition

Sodium calcium aluminum silicate

Crystal Structure
Amazonite

Specific Gravity

Chemical Composition

Potassium aluminum silicate

Crystal Structure
Orthoclase

Specific Gravity

Chemical Composition

Potassium aluminum silicate

Crystal Structure
Rainbow Moonstone

Specific Gravity

Chemical Composition

Potassium aluminum silicate

Crystal Structure
Star Moonstone

Specific Gravity

Chemical Composition

Potassium aluminum silicate

Crystal Structure
Moonstone

Specific Gravity

Chemical Composition

Potassium aluminum silicate

Crystal Structure
Seraphinite

Specific Gravity

Chemical Composition

Magnesium iron aluminum silicate hyroxide

Crystal Structure
Charoite

Specific Gravity

Chemical Composition

Complex silicate containing phosphorus, calcium and sodium

Crystal Structure
Lapis Lazuli

Specific Gravity

Chemical Composition

Sodium calcium aluminum silicate

Crystal Structure
Maw-Sit-Sit

Specific Gravity

Chemical Composition

Rock containing variable amounts of kosmochlor, jadeite and albite

Crystal Structure
Jasper

Specific Gravity

Chemical Composition

Crystal Structure
Howlite

Specific Gravity

Chemical Composition

Calcium borosilicate hydroxide

Crystal Structure
Serpentine

Specific Gravity

Chemical Composition

Crystal Structure
Variscite

Specific Gravity

Chemical Composition

Hydrous aluminum phosphate

Crystal Structure
Hambergite

Specific Gravity

Chemical Composition

Crystal Structure
Obsidian

Specific Gravity

Chemical Composition

Crystal Structure
Snowflake Obsidian

Specific Gravity

Chemical Composition

Crystal Structure
Moldavite

Specific Gravity

Chemical Composition

Silicon dioxide + aluminum oxide

Crystal Structure
Turquoise

Specific Gravity

Chemical Composition

Hydrated copper aluminum phosphate

Crystal Structure
Rubellite Tourmaline

Specific Gravity

Chemical Composition

Silicate compounded with aluminium, iron, magnesium, sodium, lithium or potassium

Crystal Structure
Sodalite

Specific Gravity

Chemical Composition

Sodium aluminum silicate chloride

Crystal Structure
Hackmanite

Specific Gravity

Chemical Composition

Sodium aluminum silicate chloride

Crystal Structure
Opal Doublet

Specific Gravity

Chemical Composition

Crystal Structure
Fire Opal

Specific Gravity

Chemical Composition

Crystal Structure
Moss Opal

Specific Gravity

Chemical Composition

Crystal Structure
Opal

Specific Gravity

Chemical Composition

Crystal Structure
Boulder Opal

Specific Gravity

Chemical Composition

Crystal Structure
Chrysocolla

Specific Gravity

Chemical Composition

Crystal Structure
Amber

Specific Gravity

Chemical Composition

Oxygenated hydrocarbon (variable)

Crystal Structure