Gemstones for Winter - choosing the right gemstone for each season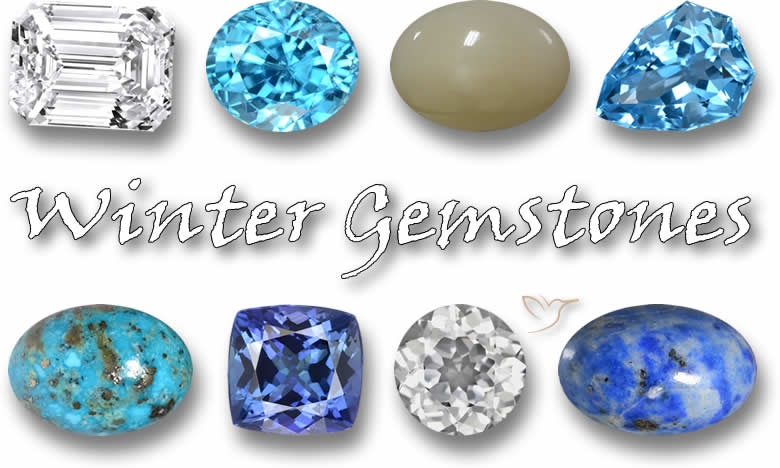 Our series of seasonal gemstones comes to an end with Winter.
We don't really get a winter here in Thailand but some of us remember the days getting short, the first flurries of snow, the ponds in the park freezing over and the arrival of Christmas lights.
There is no shortage of activities in the winter months whether they are festive gatherings, trips to the ski fields or romantic log cabins in the forest but what gemstones should we wear in the winter season?
The team here at GemSelect has got together to come up with the perfect gemstones to get you through the long cold months and the first on our list should come as no surprise.
There are a couple of gemstones which share the diamond's clear looks but not its price tag.
Beat the winter blues with these two December birthstones.
We can finish with a couple of gemstones with powerful spiritual presence.
Gemstones for Winter - Summary

| Gemstone | Attribute |
| --- | --- |
| Diamond | Icy Winter |
| Quartz | Frozen Winter |
| Topaz | Classic Winter Scene |
| Zircon | Cool Wintertime Birthstone |
| Tanzanite | Wintertime Birthstone |
| Turquoise | Wintertime Birthstone |
| Moonstone | Spiritual Calming Stone |
| Lapis Lazuli | Spiritual Health Boost |
Prima Pubblicazione: July-14-2020
Ultima modifica: September-18-2020
© 2005-2021 GemSelect.com Tutti i diritti riservati.
Qualsiasi riproduzione (testi o immagini) è strettamente proibita senza esplicita autorizzazione scritta da parte di GemSelect.com (SETT Company Ltd.).
Article Categories
Total Number of Articles: 1732