Gemstones for Summer - choosing the right gemstone for each season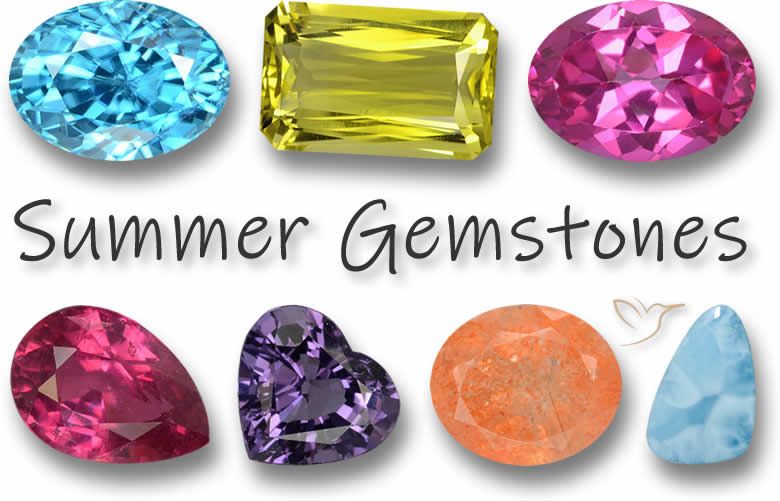 Blue skies, a blazing sun, trips to the seaside and a cool dip in the ocean are just a few of the things that we associate with summer. But what are the best gemstones to wear on those glorious sunny days?
We have searched through our stock and found seven summertime stunners sure to look great at the beach, by the lake, at the poolside party or anywhere the sun is shining.
Here are our summer season gem recommendations.
There are a few gemstones that seem to have a natural affinity to the long hot days of summer - sometimes it just comes down to the color:
We also have the summer birthstones which, in the northern hemisphere, arrive in June, July and August. From these birthstones we have chosen two which we feel are ideal for summer.
Spirituality and gemstones have gone hand in hand since man first noticed their beauty and power thousands of years ago. Some gemstones have become linked with summertime.
Gemstones for Summer - Summary

| Gemstone | Attribute |
| --- | --- |
| Blue Zircon | Bright Summer Color |
| Yellow Quartz | Sunny Summer Color |
| Pink Topaz | Fun Summer Color |
| Ruby | Summertime Birthstone |
| Spinel | Summertime Birthstone |
| Sunstone | Spiritual Heavenly Stone |
| Larimar | Spiritual Calming Stone |
Prima Pubblicazione: July-09-2020
Ultima modifica: July-14-2020
© 2005-2021 GemSelect.com Tutti i diritti riservati.
Qualsiasi riproduzione (testi o immagini) è strettamente proibita senza esplicita autorizzazione scritta da parte di GemSelect.com (SETT Company Ltd.).
Article Categories
Total Number of Articles: 1733