Rare Sillimanite Gems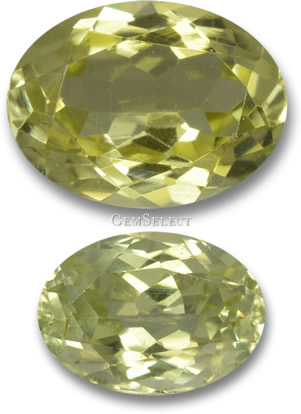 Faceted Sillimanite Gems
Sillimanite is a rare, transparent to opaque gemstone that occurs in colorless, grayish-white, green, bluish and brownish hues. It is a collector's gem that is more often found as cat's eye cabochons than faceted gemstones. Dark-colored sillimanite cat's eye gems generally exhibit a pronounced and sharp cat's eye. Sillimanite is composed of aluminum silicate, and is a polymorph of andalusite and kyanite. Polymorph gems share a similar chemical composition, but have differing crystal structures. Sillimanite forms as orthorhombic, hexagonal crystals, where kyanite and andalusite crystals are triclinic. Sillimanite is the rarest of the three polymorphs.
Like many other gemstones and minerals, sillimanite is named after the person who first identified and described it; chemist and geologist, Benjamin Silliman, the founder of the American Journal of Science. Sillimanite has a Mohs hardness level of 6.5 - 7.5 and a density (specific gravity) of 3.23 - 3.27. Its refractive index is 1.655 - 1.684 with a double refraction of 0.014 - 0.021. Like diamond and topaz, sillimanite has perfect cleavage, which means that care should be taken when setting and wearing sillimanite, since a hard blow could cause it to split. The hardness of sillimanite along with its resistance to heat means that it has good durability. However, due to its rarity, sillimanite is not often seen in jewelry. The luster of sillimanite is vitreous to silky.
Sometimes, faceted sillimanite is dyed to imitate precious gemstones such as rubies and emeralds. Sillimanite gems may appear similar to a variety of other stones, such as color change diaspore, scapolite, beryl, quartz and moonstone. The gemological properties of sillimanite are helpful when distinguishing sillimanite stones from other gemstones, and lab tests can help to identify true sillimanite gems from imposters.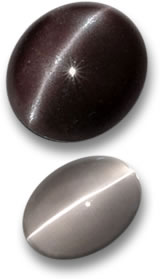 Sillimanite Cat's Eye Gems
One variety of sillimanite is traded as "fibrolite" because of its fibrous nature. When the fibers of sillimanite are chatoyant and aligned in a certain way, they exhibit the cat's eye effect. Some sillimanite gems possess strong pleochroism, which means that three colors may be exhibited in one gemstone depending on the viewing angle. The secondary colors typically seen in faceted sillimanite specimens are yellow, green and blue. Transparent sillimanite gems are often cut into ovals to preserve the most carat weight. There are various sources of sillimanite, including India, Burma, Kenya, Sri Lanka, Europe and the USA. However, gem quality sillimanite, especially transparent material is rare. Sillimanite is the official Delaware State mineral, though it was first identified in Connecticut. Sillimanite is also found in other areas, such as South Carolina and Wyoming. Some sillimanite gems from the Mogok region of Burma and the gem gravel of Sri Lanka can appear similar to light-blue to colorless sapphire.
Sillimanite is usually formed at high temperatures and is known to be a useful heat-resistant (refractory) and chemical corrosion resistant material that is used in iron and steel smelting, and the cement, ceramics and glass industries. According to crystal healing beliefs, sillimanite is a useful stone that can contribute to a positive mental attitude and give the wearer the energy to be productive.
Prima Pubblicazione: July-14-2015
Ultima modifica: January-23-2019
© 2005-2021 GemSelect.com Tutti i diritti riservati.
Qualsiasi riproduzione (testi o immagini) è strettamente proibita senza esplicita autorizzazione scritta da parte di GemSelect.com (SETT Company Ltd.).