Buy Gemme a forma di cuore con rubino
(2)
Classificato per:
Cancella tutto
Clicca per vedere i dettagli
1 Pezzo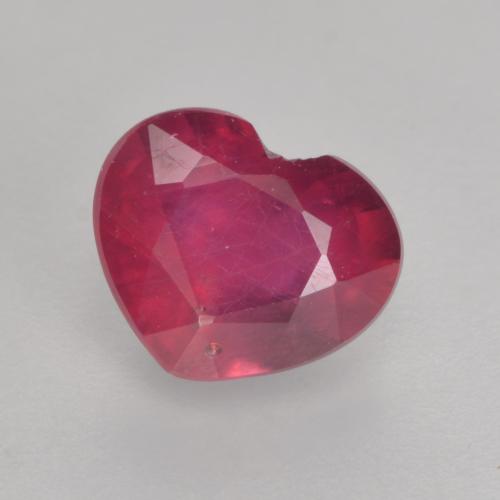 Cuore Rosso Rubino
0.8ct
6 x 5 mm
Articoli in stock
Clicca per vedere i dettagli
1 Pezzo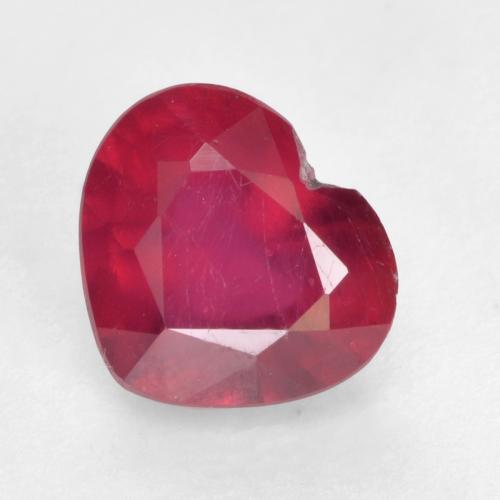 Cuore Rosso Rubino
0.7ct
5.8 x 5.1 mm
Articoli in stock
Gemme a forma di cuore con rubino
Ruby is without doubt one of the most valuable gemstones, which has long been famed for remarkable brilliance, vitreous luster and excellent durability, ruby is indeed one of the most important gemstones of all time. In fact, throughout most of history, all red gemstones were thought to be ruby. Ruby is a member of the corundum family, more specifically, it is a red gem-quality variety of corundum. All other colors of corundum are traded as sapphire. Although sapphire is considered rare, red ruby is even rarer. Ruby has a hardness of 9 on the Mohs scale, making it the second hardest natural material known to man. Ruby, along with sapphire, emerald and diamond, is classified as one of the 'precious four gems'.
Ruby gemstones can be found in various shapes and cutting styles, including round shapes, oval shapes, cushion shapes, pear shapes, trillion shapes and fancy heart shapes. Heart-shaped gemstones are the perfect shape for those looking for romantic gemstones for jewelry. Ruby hearts are especially rare due to ruby being incredibly rare to begin with. Like other shapes, heart-shaped rubies can be found with various cut-styles, including plain-cut cabochons as well as faceted gems. Most heart-shaped rubies are mixed-cut, featuring angular brilliant-cut facets with rectangular step-cut facets. Fine quality red ruby hearts can be very expensive, especially untreated ruby or heat-only ruby. For those shopping on a smaller budget, fracture-filled rubies hearts are very affordable, but these should not be recut, repolished or repaired. This may not be an issue though, considering the costs to repair a damaged ruby would exceed the costs of replacing it altogether. When replacing gemstones, it's best to select gemstones by size (in millimeters), rather than weight. This is because a 1 carat ruby can range in size depending on its exact proportions.
Almost all rubies will exhibit secondary colors other than red. The most common combinations include pinkish-red, orangey-red, purplish-red, bluish-red and brownish-red. Most experts would agree that good quality rubies should exhibit a medium to medium-dark tone. Today, sources for fine ruby gemstones include Afghanistan, Australia, Brazil, Burma (Myanmar) Cambodia, India, Madagascar, Malawi, Mozambique, Nepal, Pakistan, Tajikistan, Tanzania, Thailand, the United States and Vietnam.
Recensioni dei clienti verificati
Valutazione complessiva -> 10

I always check this site because they have unique options.
Pubblicato da Lisa in February, 2019
Valutazione complessiva -> 10

Great website to navigate. Awesome Gem selection! Nice photos and discriptions for all of the gems for sale. You can find gems in all price ranges. Checkout was a breeze.
Pubblicato da Timmy in February, 2019
Valutazione complessiva -> 10

They had an extensive gemstone selection in all different cuts, sizes, and colors. They also had very good and workable prices. All of these aspects pulled me in as a customer.
Pubblicato da Josh in February, 2019
Valutazione complessiva -> 10

I ordered this really nice pair of Rubies from Gemselect and I love them because of all the detailed information you get. Also if you scroll down you can see other similar items single, in pairs, lots, bigger, smaller, etc and it's such an easy website to use.
Pubblicato da Bruno in February, 2019
Valutazione complessiva -> 10

I wasn't sure where to go to find a variety of gemstones to choose from in the size and shape that I was looking for. I'm really glad I found this website because the search options and filters made it really easy to find what I was looking for. The prices seem quite reasonable. This will be the first place I go the next time I'm looking for a gemstone!
Pubblicato da Pink4302 in February, 2019
Valutazione complessiva -> 9

I am impressed with the variety of the inventory and the information provided on each item. I like the pricing. The only reason I wouldn't recommend the site is I do not want to reveal my source.
Pubblicato da Bob in February, 2019
Informazioni sulle gemme
Le pietre più conosciute