Gemstones for Thanksgiving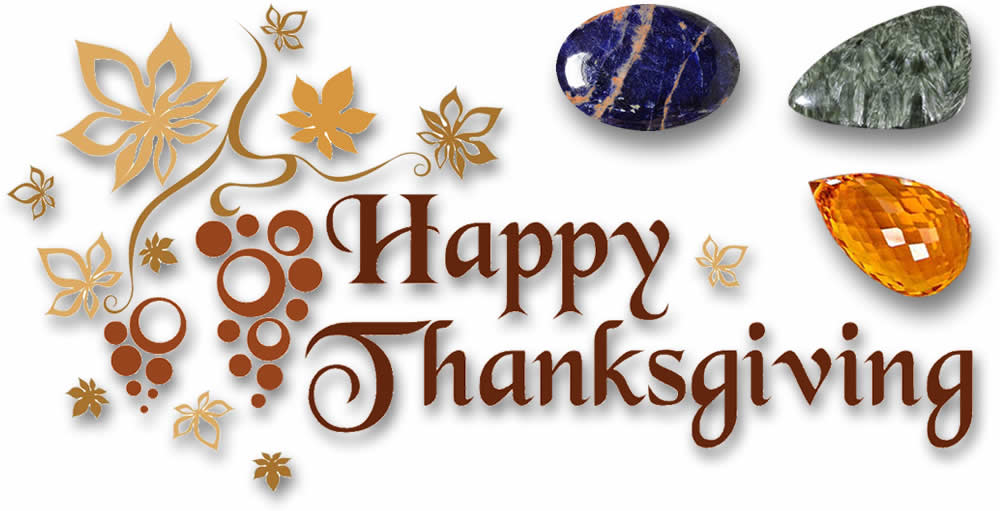 I spent last weekend cycling 200 miles in the hills and valleys of a neighboring province and put it down to being in fine physical shape but my wife insists it was the bloodstone pendant she gave me before I left!
Take a look at our new article on Gemstones for physical fitness
If there is one time of year that will interrupt your training schedule and help pile on the pounds it is Thanksgiving. This year, in the middle of the Covid pandemic, perhaps this holiday is more important than ever as it can remind us to appreciate what we have, rather than what we have lost.
Travel and crowd restrictions may limit celebrations in 2020 but no doubt our American friends will find a way to give thanks and spend precious time with family and loved ones.
I have a few gemstones that I know will make your Thanksgiving Day flow that little bit more smoothly:
Good ways to incorporate gemstones into your Thanksgiving Day include just wearing them as jewelry, giving them to guests as gifts, as table decorations, in a mixed gratitude bowl or tucked about the house to animate their influence.
A gemstone elixir can be made in advance and used in a spray to mist the whole house with positivity.
See our article on elixirs here
The mixed gratitude bowl can include all the above gemstones as well as some of the following:
It is also Diwali, the Indian festival of lights, in November this year. Any of the following gemstones are particularly powerful at this time of the year:
For more information take a look at our article on Navagrahas and Jyotish Astrology Gemstones
Customer Questions
Every month we answer questions of general interest from our customers. Please feel free to send your questions or suggestions to our support team at help@gemselect.com
Is golden beryl suitable for jewelry?
Golden beryl has a hardness of 7.5 to 8 on Mohs hardness scale making it suitable for all kinds of jewelry. Golden beryl is the lesser known member of the beryl family (Emerald and Aquamarine being the most famous), and not so many people are aware that golden beryl is actually the most available and affordable of all beryl types.
How old is the oldest diamond found?
The oldest known diamonds were found in the Jack Hills region, Western Australia. The 4 billion year old diamonds were found locked inside zircon crystals, and are thought to be approximately 1 billion years older than any diamonds found in terrestrial rock!
To ensure you can receive our emails, please be sure to add help@gemselect.com to your list of safe contacts, or add us into your email address book! Please feel free to contact us with any questions, comments, and queries! We respond to every email we receive.
Everyone please stay safe
Happy Gemstone Hunting!

Team GemSelect
Prima Pubblicazione: October-26-2020
Ultima modifica: November-02-2020
© 2005-2021 GemSelect.com Tutti i diritti riservati.
Qualsiasi riproduzione (testi o immagini) è strettamente proibita senza esplicita autorizzazione scritta da parte di GemSelect.com (SETT Company Ltd.).
Article Categories
Total Number of Articles: 1732