Buy Geode di citrina Gems
(1)
Classificato per:
Cancella tutto
Clicca per vedere i dettagli
1 Pezzo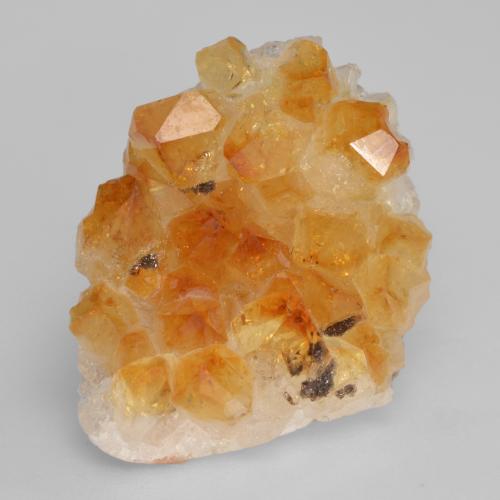 Taglio a fantasia Dorato Geode di citrina
35.8ct
24.8 x 18.5 mm
Articoli in stock
Geode di citrina
Citrine geodes are rock cavities or vugs with internal crystal formations in colors ranging from pale yellow to deep orange and ranging from transparent to translucent. Citrine geodes can be small nodules cut in half or pieces of larger geodes sold as crystal clusters. Value per carat in citrine, unlike many gems, doesn't rise exponentially with weight as it is readily available in large sizes; but depends almost entirely on color. Named from the French word for lemon,"citron", many citrine gems have a juicy lemon color. Citrine includes yellow to gold to orange-brown shades of transparent quartz. Although the darker, orange colors of citrine, sometimes called Madeira citrine after the color of the wine, has generally been the most valued color, in modern times, many people prefer the bright lemony shades which mix better with pastel colors.
Recensioni dei clienti verificati
Valutazione complessiva -> 10

man their gems are pretty good, and the prices aren't to bad either, I like checking out hte gems on there website, beceause the pictures of the gems are taken pretty well, and you can see the table, and the facets.
Pubblicato da Spinach in March, 2019
Valutazione complessiva -> 10

I love gemselect and I have bought a fair amount from them. The only complaint I have is not being able to save gems. I have a lot of projects so i am in the market for a lot of different gems and it's so disappointing to have to delete them all just to purchase one or two that I have saved in my cart.
Pubblicato da S.Hicks in March, 2019
Valutazione complessiva -> 10

I always check this site because they have unique options.
Pubblicato da Lisa in February, 2019
Valutazione complessiva -> 10

Great website to navigate. Awesome Gem selection! Nice photos and discriptions for all of the gems for sale. You can find gems in all price ranges. Checkout was a breeze.
Pubblicato da Timmy in February, 2019
Valutazione complessiva -> 10

They had an extensive gemstone selection in all different cuts, sizes, and colors. They also had very good and workable prices. All of these aspects pulled me in as a customer.
Pubblicato da Josh in February, 2019
Valutazione complessiva -> 9

It all depend on the product I will receive and have it verified by my in law jewellers.
Pubblicato da Vodka in February, 2019
Informazioni sulle gemme
Le pietre più conosciute