Kaufe Pyrop-Granat Gems
(1)
Sortieren nach:
Alles löschen
Einzelheiten
1 Stk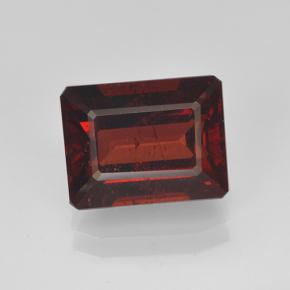 Oktagonschliff Rot Pyrop-Granat
3.2ct
9.1 x 6.9 mm
Artikel auf Lager
Pyrop-Granat
Pyrop-Granat ist ist der berühmteste rot Granat. Seine dunkle, blutrote Farbe ist auffällig und ähnelt oft der Farbe von Rubin. Der Schmuckstein wird oft ohne Einschlüsse gefunden. Die unglaubliche Brillanz des Pyrop-Granats wird von der starken Lichtbrechung verursacht. Pyrop wird manchmal als Böhmischer Granat bezeichnet, da er früher aus Tschechien kam. Pyrop war in Europa im 18. und 19.Jahrhundert der Modestein schlechthin. Die Härte von 7-7,5 auf der Mohs-Skala erklärt, warum er sich so gut geeignet hat. Pyrop ist ziemlich stabil, alltagstauglich und kann einfach in Schmuck verarbeitet werden. Aufgrund seiner Härte und Zusammensetzung kommt Pyrop-Granat in vielen verschiedenen Schliffen und Formen vor. Der tiefrote Stein sieht in einer goldenen Fassung unschlagbar aus. Hochkarätige Größen sind zu einem attraktiven Preis erhältlich. In der Antike wurde geglaubt, dass Granate die Nacht erhellen und den Träger vor dem Bösen schützen.
Geprüfte Kundenbewertungen
Gesamtbewertung -> 10

Bro, I found this dope ass site with thee most beautiful gems and the picture quality is awesome. When I tell you that you can choose so simply then you better believe it!
Geschrieben von Jeff in September, 2019
Gesamtbewertung -> 10

This web site is super easy to use and the product has always been top notch. I have ordered stones from around the globe and I love their selection. My wife's wedding gifts and greats birthday gifts always start with gem select.
Geschrieben von Jake the Jeweler in September, 2019
Gesamtbewertung -> 10

I really trust GemSelect from the recommendation from MsBlue at The Remix and going to the site you can see where the Crystal is from geographically and basic scientific properties and I see the exact Crystal I am buying from the pictur. No surprises and you are getting the REAL THING!
Geschrieben von Mayadia in September, 2019
Gesamtbewertung -> 10

Good business
Geschrieben von Cj in September, 2019
Gesamtbewertung -> 10

I always show off my gems and jewlery...I always show people the site and gems...I love the mineral rocks and stones..
Geschrieben von Beto in September, 2019
Gesamtbewertung -> 10

I love the quality and prices of the large gemstones.
Geschrieben von Tom in September, 2019