Yellow and Rose Gold Engagement Rings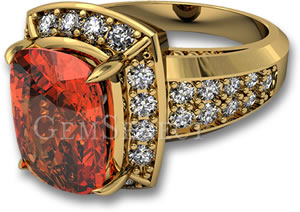 Yellow Gold Engagement Ring with Spessartite Garnet and White Sapphire
Traditional engagement rings are white diamonds and white precious metal - the most popular choice is platinum. Platinum has been popular since the Art Deco era. Since platinum is scarcer and was more valuable than gold, it has been a status symbol for many years. It could be merely coincidence, but yellow gold has become more popular since the price per ounce of platinum fell below that of gold.
The hard-wired trend of having a platinum and white diamond engagement ring may finally be showing signs of fizzling out with more brides-to-be choosing yellow gold than in the previous decade. While white precious metal helps to increase the brilliance of white diamond, it can also sometimes appear a little harsh against the skin. It seems that some people are realizing this and buying yellow and rose gold engagement rings and wedding bands. Also, the fashion for colored stones and brown ("chocolate and vanilla") diamonds means that yellow and pink precious metals are also in trend because they often look better with champagne and cognac diamonds.
If white diamonds still insist on being the stone of choice for engagement rings, the setting can be produced from white metal, to help the diamond to shine, with the other parts of the ring rendered in yellow or rose gold. Colored stones look particularly impressive when set in colored metal, depending on the hue. For example, pink gems look wonderful in rose gold, as well as some brown, rose, red and purplish gems. Bluish-green emerald looks great in yellow gold, but a more yellowish-green gem like peridot can go well with rose gold. Black, grayish or silver gemstones also look great in rose gold.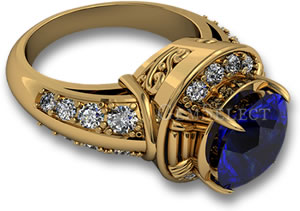 Yellow Gold Engagement Ring with Blue Sapphire and White Diamond
Yellow gold goes great with blue, red, green and yellow gems. In fact, in Southeast Asia, rubies are often displayed for sale on a brass plate or yellow background, which makes them appear redder. This is because yellow and blue are complementary colors- they fall opposite each other on the color wheel. It is strange that they are termed "complementary" when they are opposites. However, the way this works is that the yellow background balances out the bluish tones in the ruby and brings out the redness. Since yellow and violet are complementary, blue and purple gemstones go very well with yellow gold. Therefore, the best choice for a yellow gold engagement ring is probably blue sapphire or tanzanite (see image, above).
According to famous artists such as Claude Monet, the strength of color comes from contrast, so colors look at their best when they are accompanied by their complementary color. Complementary colors create balance. This is why a red rose with green leaves is pleasing to the eye, as well as a painting of a sunrise with an orange sun and purple sky. Another example of this is that green clothing helps to balance out a reddish complexion. When a colored gemstone is set into white precious metal, there is no other color to complement it. This can either make the colored stone stand out more, or make it appear unbalanced. On the other hand, a mix of too many colors can seem chaotic.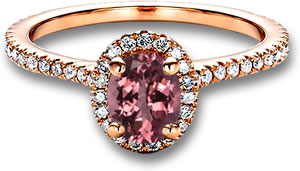 Rose Gold Engagement Ring with Pink Tourmaline and White Diamond
The background also has a strong effect on color perception. When it comes to engagement rings, the background against which the ring will be viewed is the color of the skin on the back of the hand and fingers. Since we are all unique, what suits some people may not look so good on others. In general, white precious metals complement skin that has cool tones, but warm-toned people look much better in yellow gold. Rose gold gemstone jewelry is suitable for most people. While most people have either warm or cool-toned skin, some people have a mix of both (neutral). These lucky people can look good in any color.
When it comes to deciding on an engagement ring, all of the above can help brides-to-be to choose the most suitable materials. However, when it comes to the design, there are many more factors to take into account. For details about bands, shapes, stones, settings and more, see our article on popular engagement ring designs.
Erstausgabe: June-29-2016
Zuletzt geändert: November-07-2018
© 2005-2021 GemSelect.com alle Rechte vorbehalten.
Nachdruck (Text oder Grafik) ohne die ausdrückliche, schriftliche Zustimmung von GemSelect.com (SETT Company Ltd) ist streng verboten.