Natural Violet Purple Amethyst Photos
Amethyst is one of the most valuable forms of the mineral quartz. Amethyst is found in many locations in world, but the characteristics and quality of amethyst varies in interesting ways by location. For example, amethyst from South America is often found in large sizes while African amethyst is usually quite small. But the African amethyst can be highly saturated in color, making it popular with collectors.
The bulk of the world's supply of amethyst comes from South America, particularly Brazil and Uruguay. The most notable sources of amethyst in Brazil come from Minas Gerais, Rio Grande do Sul, Maraba and Bahia.
Amethyst from Uruguay varies in saturation from a medium saturated to a deep highly saturated purple. Like in Brazil, amethyst crystals in Uruguay are found in volcanic vugs. The vugs of Uruguay are host rocks with a gray or brownish exterior and the larger vugs contain stalactites and other formations on which amethyst druses form. The entire crystal of each amethyst contains the coloration typical of this region.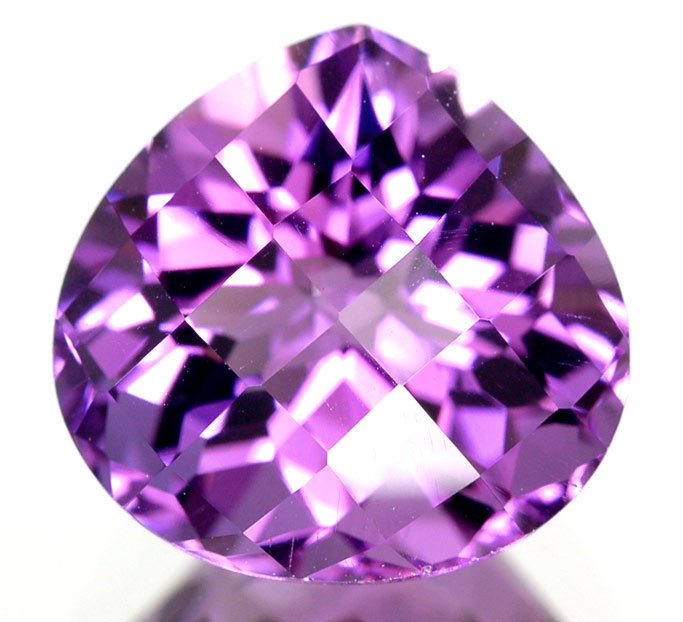 Natural Amethyst in Pear Shape
First Published: January-28-2009
Last Updated: June-27-2017
© 2005-2018 GemSelect.com all rights reserved.
Reproduction (text or graphics) without the express written consent of GemSelect.com (SETT Company Ltd.) is strictly prohibited.
See more related information below