Acheter Opale Doublet gemmes
(3)
Tous les Détails
2 Pcs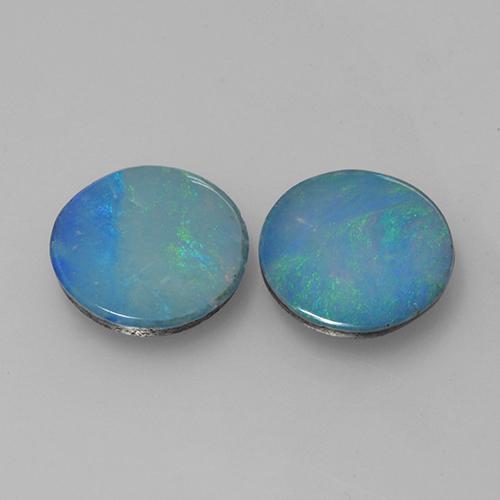 Tour Multicolore Opale Doublet
1.52 ct (Total 3.03ctw)
9.9 mm
Article en stock
Tous les Détails
2 Pcs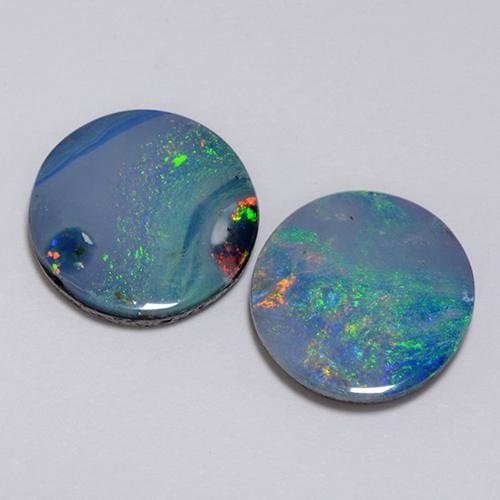 Tour Multicolore Opale Doublet
2.17 ct (Total 4.34ctw)
9.9 mm
Article en stock
Tous les Détails
2 Pcs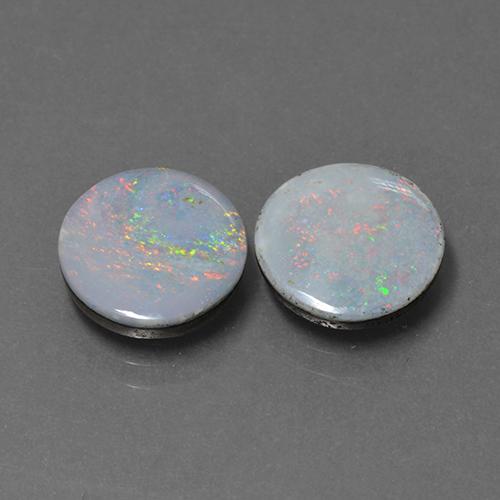 Tour Multicolore Opale Doublet
2.13 ct (Total 4.25ctw)
10.1 mm
Article en stock
Opale Doublet
Plus que tout autre gemme, chaque opale est individuellement différente. Aucune autre pierre n'a un folklore aussi riche et varié. Les opales sont également les gemmes les plus délicates à porter. Elles ont besoin de soins spéciaux afin de les préserver et améliorer leur longévité. L'opale de feu a longtemps été considérée comme le résultat de l'iridescence. Cependant, avec l'avènement des microscopes électroniques à balayage, nous savons maintenant que c'est le résultat de la diffraction. L'opale est relativement tendre avec une dureté de 5,5 à 6,5 sur l'échelle de Mohs. Malgré le fait qu'elle soit fréquemment utilisée avec des bagues, l'opale n'est pas la meilleure option pour les bagues en pierres gemmes ; elle est cependant très bien adapté pour d'autres types de bijoux en pierres gemmes comme les boucles d'oreilles, les épingles et les pendentifs. Ses principaux gisements sont localisées en Australie, au Brésil, au Mexique et aux États-Unis. La valeur des opales est généralement déterminée par la présence et la nature des flashs de couleur. Une opale doublet consiste en une tranche d'opale collée sur un support noir (conçu pour imiter l'apparence d'une opale noir solide). En collant la tranche d'opale sur un support noir, la couleur devient beaucoup plus sombre et plus vibrante. Les opales doublets sont considérées comme une alternative peu coûteuse par rapport aux opales solides qui sont très coûteuses dans des grandes tailles.
Avis de clients certifiés
Évaluation Générale -> 10

man their gems are pretty good, and the prices aren't to bad either, I like checking out hte gems on there website, beceause the pictures of the gems are taken pretty well, and you can see the table, and the facets.
Posté par Spinach in March, 2019
Évaluation Générale -> 10

I love gemselect and I have bought a fair amount from them. The only complaint I have is not being able to save gems. I have a lot of projects so i am in the market for a lot of different gems and it's so disappointing to have to delete them all just to purchase one or two that I have saved in my cart.
Posté par S.Hicks in March, 2019
Évaluation Générale -> 10

I always check this site because they have unique options.
Posté par Lisa in February, 2019
Évaluation Générale -> 10

Great website to navigate. Awesome Gem selection! Nice photos and discriptions for all of the gems for sale. You can find gems in all price ranges. Checkout was a breeze.
Posté par Timmy in February, 2019
Évaluation Générale -> 10

They had an extensive gemstone selection in all different cuts, sizes, and colors. They also had very good and workable prices. All of these aspects pulled me in as a customer.
Posté par Josh in February, 2019
Évaluation Générale -> 9

It all depend on the product I will receive and have it verified by my in law jewellers.
Posté par Vodka in February, 2019
information sur les pierres précieuses