Buy Color-Change Diaspore Gems
(3)
Click for Details
2 pcs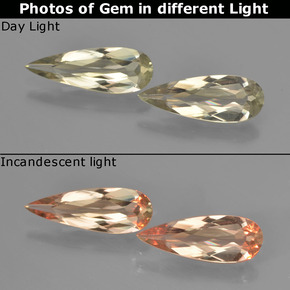 Pear Yellow Color-Change Diaspore
1.11 ct (total 2.22ctw)
13.1 x 4.6 mm
Item in Stock
Click for Details
2 pcs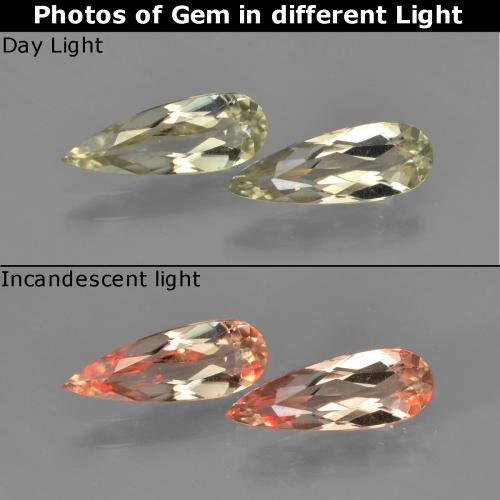 Pear Yellow Color-Change Diaspore
0.78 ct (total 1.55ctw)
10.8 x 4 mm
Item in Stock
Click for Details
2 pcs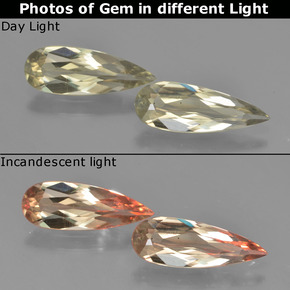 Pear Yellow Color-Change Diaspore
1.29 ct (total 2.58ctw)
13.6 x 4.9 mm
Item in Stock
Color-Change Diaspore
Diaspore, sometimes marketed under the name Zultanite, is a color change gem from Turkey recently introduced to the international market. Diaspore is a hydrated aluminum oxide colored by manganese. It was first faceted as a gemstone in the 1980's, but has never been mined commercially until recently. With reasonably good hardness (6.5 to 7 on the Mohs scale) and good brilliance, diaspore has been attracting considerable attention in the gem world.

Under natural or fluorescent light, diapsore has a kiwi green color, with flashes of yellow. Diaspore displays a champagne color under incandescent lighting, and when exposed to subdued lighting, such as candlelight, it has a pinkish color. The larger the stone, the more pronounced the color change effect will be.
Certified Customer Reviews
Overall Rating -> 9

Great selection of items easey to place order definitely will order from you again Just wish that there was a place on the sight to convert MM to inches or be able to pick between mm and inches to determine the size of stone's for those of us that do not use the metric system
Posted By Nickel in September, 2019
Overall Rating -> 10

Bro, I found this dope ass site with thee most beautiful gems and the picture quality is awesome. When I tell you that you can choose so simply then you better believe it!
Posted By Jeff in September, 2019
Overall Rating -> 10

This web site is super easy to use and the product has always been top notch. I have ordered stones from around the globe and I love their selection. My wife's wedding gifts and greats birthday gifts always start with gem select.
Posted By Jake the Jeweler in September, 2019
Overall Rating -> 10

I really trust GemSelect from the recommendation from MsBlue at The Remix and going to the site you can see where the Crystal is from geographically and basic scientific properties and I see the exact Crystal I am buying from the pictur. No surprises and you are getting the REAL THING!
Posted By Mayadia in September, 2019
Overall Rating -> 10

Good business
Posted By Cj in September, 2019
Overall Rating -> 10

I always show off my gems and jewlery...I always show people the site and gems...I love the mineral rocks and stones..
Posted By Beto in September, 2019
Gemstone Information
Popular Gemstones