GemSelect February 2014 Newsletter: Heart-Shaped Valentine's Gems
| | |
| --- | --- |
| | Swiss Blue Topaz Heart |

Snowflake Obsidian
In some parts of the world, February is the coldest month of the year. In Finnish, February is called helmikuu, which means 'the month of the pearl'. This is because of frozen water droplets that can be seen during this cold month. In several other European languages, February is named after ice or freezing imagery, such as in Polish and Ukrainian where it is named after ice or hard frost. These icy images bring to mind crystal clear icicles or milky white hues, such as can be seen in transparent gems like diamond, sapphire and topaz, or opaque gems such as pearl and howlite.
A particularly interesting gem that seems to have been formed with a winter design in mind is the snowflake obsidian, which is black or grey with what appears to be snowflake patterns in white.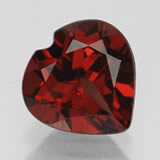 Almandine Garnet
Saint Valentine's Day falls on the 14th of February and is celebrated throughout the world as a festival of romantic love. One of the main symbols of Valentine's Day is the heart shape. It is thought that depictions of the heart shape as we know it today originated in nature; in the shape of leaves, such as ivy leaves, and this shape was not related to the emotions or love until the Middle Ages, when the link between the emotions and the heart emerged.
The first known illustration of the heart, as a symbol of love was in a picture dated in the 1250s. However, the shape of the heart in that picture was anatomically correct for the time, and not the heart shape that we recognise as today's symbol of love. The heart shape as we know it emerged in the 1300s. However, there is some speculation that the love heart could have originated from Roman times. Silver Roman coins from the 6th-5th century BCE, depicting heart shaped silphium seed pods have been discovered. Silphium was used as a natural contraceptive, and must have served the randy Romans well, since they harvested it until it was extinct. In popular culture, since the 1800s, the heart shape has been used on Valentine's cards, boxes of chocolates and other items that symbolise love and affection.
Another symbol of love and affection is the ring. The shape of the ring; an unbroken circle, symbolizes eternal love. Gemstones set into a ring can bring a further meaning and gemstones themselves can be given as tokens of everlasting love.
Gems can be fashioned into a variety of shapes, such as round, pear or oval shapes. However, a more recent shape that is an appropriate token of affection is the fancy heart shape.
Multicoloured Sapphires
The heart shape is similar to the pear shape, which then has a cleft cut into it, to create the two lobes of the heart. Often, a gem cutter will decide on a heart shape when a stone has an inclusion in the rounded end and an experienced cutter will cut the cleft of the heart here, to eliminate the imperfection. In this way, a perfect polished gem can emerge from an imperfect rough stone. A heart-shaped gem makes a beautiful pendant, or a smaller stone can be set into a ring; the perfect token of eternal romantic love. Alternatively, a matching pair of heart-shaped gems can be made into beautiful earrings, or a matching set can be made into an attractive necklace or bracelet.
Heart-shaped gems are popular around Valentine's Day. Common heart-shaped gems are violet amethyst; the birthstone for those born in February. These range from delicate pale violet to deep purple. Also, there are golden yellow and orange sapphires, icy violet-blue sapphires, fiery orange zircon, seawater green sapphires, delicate light-yellow sapphires, blue-violet iolite, blood-red garnets and pink-red rubies. In fact, most gems can be made into a heart shape.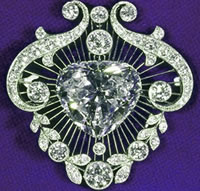 A world famous heart-shaped gem is the Cullinan 5 diamond, which was cut from the Cullinan; the largest gem-quality rough diamond that was ever discovered, which weighed a staggering 3,106 carats and was known as 'the star of Africa'. The Cullinan diamonds form integral pieces of the British Crown Jewels. The Cullinan 5 was set into a heart-shaped brooch worn by Her Majesty, the Queen of England.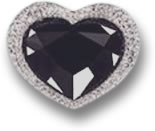 Another well-known heart-shaped gem is the Gruosi black diamond, which takes its name from the renowned Swiss jewellery and watch designer, Fawaz Gruosi. The black diamond was bought as a rough gem from India, weighing 300.12 carats. After being cut, it weighed a lesser 115.34 carats.  However, it remains the 5th largest faceted black diamond in the world and the largest heart-shaped black diamond in the world.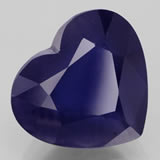 7ct Violet Blue Iolite
This is a beautiful 7 carat violet blue heart-shaped iolite from Madagascar. Iolite comes from the Greek word ios, which means 'violet', and looking at the gem, you can see why because it is a beautiful deep purplish blue hue. It is said to bring order to chaos. Perhaps this is why iolite is also considered by crystal healers to help with addiction. This belief may stem from the fact that the Vikings used it as a polarizing filter, so it became known as 'the Vikings' compass' and as the gem for clear vision. Iolite features strong pleochroism, which means that it displays different colours when viewed from different angles. So the same stone can look violet blue, yellow grey or light blue. Skilled gem cutters will cut iolite carefully, in order to minimize this quality and show off the preferred hue.
Red Ruby
The perfect symbol of passion and desire, this stunning red Burmese ruby weighs just over one carat. It has been faceted into an octagonal shape, which shows off its lustre beautifully. Rubies are second to diamonds on the Mohs scale, having a hardness of 9. The rich red colour of rubies comes from chromium. Rubies belong to the mineral species of corundum, which is the same as sapphires. In Thailand, which is another source for rubies, rubies are known as "tabtim", which means "pomegranate" in Thai. This is because these shining red gems look like the edible seed coats found inside a ripe pomegranate.

Natural Tsavorite
If red is not your thing, then you may be interested to know that garnets occur in a variety of colours such as this deep green natural tsavorite garnet from Tanzania. Tsavorite garnet is named after the area where it was recently discovered, in 1967 near Tsavo National Park in Kenya. Tsavorite garnets range in colour from light-green to deep green. They are softer than ruby, at 6.5 - 7.5 on the Mohs scale. Tsavorite's vivid green brilliance rivals that of emerald, and tsavorite is rarer than emerald. Moreover, whilst emerald is often treated with oils or resins to fill fractures, tsavorite remains untreated and naturally lustrous.
Researchers have recently discovered kimberlite (an igneous rock that occurs in the Earth's crust) in the frozen mountains of Antarctica. Diamond deposits are often found in kimberlite, so this is an exciting discovery. However, according to the protocol on Environmental Protection to the Antartic Treaty, mineral extraction is currently banned, so even if gem grade diamonds are present, they may only be extracted for research purposes.
A grieving father in Italy has his son's ashes made into a synthetic 'remembrance diamond'. The man's 20 year old son had died in a car crash and had already been buried, when the father exhumed the body and sent the ashes to Switzerland, where the diamond was created after an 8 month wait. Well, as they say, 'diamonds are forever'.
| | | | |
| --- | --- | --- | --- |
| Event Name | Location | Venue | Dates |
| Arizona Mineral & Fossil Show | Tuscon, USA | Hotel Tucson City Center, Tucson | February 1 - 15, 2014 |
| The Jewellery Show | Birmingham, UK | National Exhibition Centre (NEC), Birmingham | February 2 - 6, 2014 |
| Gem & Jewelry Exchange (GJX) | Tucson, USA | 198 S. Granada Ave, Tucson | February 4 - 9, 2014 |
| AGTA Gemfair | Tucson, USA | Tucson Convention Center, 260 S. Church | February 4 - 9, 2014 |
| Junwex Petersburg | St. Petersburg, Russia | Lenexpo Fairgrounds, 103 Bolshoy Prospect | February 5 - 9, 2014 |
| Bisutex | Comunidad De Madrid, Spain | IFEMA Feria de Madrid | February 6 - 9, 2014 |
| Esoteric Fairs Berlin | Berlin, Germany | AVZ-Logenhaus | February 7 - 9, 2014 |
| Gem & Jewellery India International Exhibition | Chennai, India | Chennai Trade Centre | February 8 - 10, 2014 |
| Feninjer | Sao Paulo, Brazil | Hotel Transamerica, Av. Nacoes Unidas, 18.591 | February 12 - 15, 2014 |
| China International Gold, Jewellery & Gem Fair | Shenzhen, China | Shenzen Convention & Exhibition Centre (SZCEC) | February 26 - March 1, 2014 |
| Elit EXPO | L'viv, Ukraine | Lviv Palace of Arts, 17 Kopernik Str, L'viv | February 27 - March 2, 2014 |
Every month we answer questions of general interest from our customers. Please feel free to send your questions or suggestions to our support team at Help@GemSelect.com!
Q:
Are there any gem stones that symbolize love?
A:
Yes, topaz is a symbol of love and affection. Lapis lazuli is considered to be a powerful love stone that brings spiritual love and enhances love and fidelity in marriage. Kunzite is a symbol of eternal love and is said to heal a wounded heart and bring positive energy to the wearer. Sapphire is said to be a stone of love, commitment and fidelity, which strengthens the bond between lovers. Moonstone is the stone for passion and is thought to be related to fertility, and help to balance the female hormones. Lastly, rose quartz is a crystal that is believed to inspire calm, and open us up to the possibility of love.
Q:
What is the difference between a gem and a crystal?
A:

Multicoloured Agate Geode

A crystal is an unvarying solid that is formed by a repeating, three-dimensional pattern of atoms, ions, or molecules and having smooth external surfaces with characteristic angles between them. A gem is a material that has been cut and polished for use as an ornament.  Therefore, a crystal can be a gem and a gem can be a crystal, but not all gems are crystals.
We hope you found our topics interesting. Please feel free to send us your questions, comments or feedback!
To ensure you can receive our emails, please be sure to add help@gemselect.com to your list of safe contacts, or you add us into your email address book! Please feel free to contact us with any questions, comments and queries! We respond to each and every email we receive.
Happy gem hunting,
Your friends at GemSelect