Precios de los zafiros

Una pregunta que con frecuencia nos hacen nuestros clientes es: ¿Cuánto cuesta un zafiro de buena calidad?". Dicha pregunta no es fácil de responder dado que existen diversos grados y colores de zafiros. Los precios, además, dependen del peso por quilates. Aún así, es una pregunta que vale la pena responder, de modo que intentaremos hacerlo, de acuerdo con nuestra experiencia en el mercado.
Comencemos con el segmento inferior del mercado para avanzar hacia el segmento superior. Los zafiros menos costosos son los tallados, debido a que eso es lo que hace la industria con materiales de bajo grado que no son aptos como piedras preciosas. Los tallados tienden a ser valorados por la pieza en sí más que por el quilate, ya que el trabajo que conlleva producirlos, por lo general excede el costo del material. Usted podrá encontrar pequeñas piezas talladas desde $10-20, cada una.

Los siguientes en la escala ascendente de precios son los cabujones de zafiros. Los materiales que no presentan buen color, cuya transparencia no es suficiente como para realizar el corte en facetas, se utilizan para crear la forma redondeada, similar a un domo, que se conoce con el nombre de cabujón (o simplemente cab). Con frecuencia los cabujones se pueden encontrar en color azul y verde y, además, usted dispone de tamaños grandes, incluso hasta 10 o 20 quilates. El precio por quilate de los cabujones tiende a ser estable independientemente del tamaño, y por lo general disponemos de piezas que rondan los $10 por quilate. Se pueden obtener piezas de joyería muy atractivas, que tienen todas las virtudes de los zafiros, a un precio muy accesible.
También puede encontrar zafiros estrella dentro de los materiales del grado cabujón. Aquí en Tailandia existen varias clases de zafiros estrella. En Chantaburi, nuestra provincia natal, se producen zafiros estrella de color negro y dorado sin tratamiento térmico, que no se pueden encontrar en ningún otro lugar del mundo. También contamos con zafiros estrella de color azul con tratamiento de difusión mediante titanio que permite mejorar el efecto de estrella. La mayoría de los zafiros estrella que se comercializan rondan los $10 por quilate. Existen pocos zafiros estrella transparentes pero usted podrá encontrarlos principalmente en los museos.

Si nos trasladamos a los zafiros facetados, las piezas de menor precio serán las de tamaños más pequeños (por debajo de medio quilate), las que presenten más inclusiones en el material o las tratadas con berilio. Los precios de los zafiros estrella facetados comienzan desde $20 por quilate y aumentan de acuerdo al tamaño y al color. Usted encontrará tamaños mayores a 1 quilate en piezas de zafiro verde tratadas con berilio a alrededor de $75 por quilate, y piezas de color amarillo y naranja rojizo desde $100 hasta $120 por quilate. Nos hemos dado cuenta de que los precios de los zafiros tratados con berilio han aumentado de manera significativa en este último año.

Los precios de los zafiros azules que reciben tratamiento térmico dependen mucho del color y la claridad de éstos. Es de esperar que se pague alrededor de $300 por quilate para piezas limpias del tamaño de 1 a 2 quilates, que presenten buen color de saturación. Para los zafiros de calidad que pesan más de 2 quilates, los precios ascienden tradicionalmente de manera sustancial. Nosotros hemos tenido algunos zafiros azules excelentes de entre 2 y 2,5 quilates aproximadamente a $400 por quilate, y recientemente hemos adquirido un zafiro de Madagascar de 5,09 quilates, con una claridad libre de inclusiones (IF, por su sigla en inglés), cuyo valor ronda los $600 por quilate.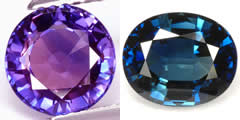 Se torna más difícil establecer los precios tradicionales de mercado para zafiros muy finos que no reciben tratamiento térmico debido a que éstos son poco frecuentes. Sin embargo, recientemente hemos adquirido dos piezas excepcionales provenientes de la mina Diego Suarez, al norte de Madagascar. Una de ellas es de un color violeta azulado deslumbrante que pesa 2,62 quilates y manifiesta una claridad con inclusiones sumamente leves (VVS, por su sigla en inglés). Presenta un corte redondo, una forma que típicamente le agrega un valor extra en el mercado. Le asignamos un precio de $965, que tal vez sea inusualmente bajo para el mercado. La segunda pieza que no ha recibido tratamiento de calor se trata de un zafiro de un azul intenso con un tinte verde, cuyo peso es de 6,33 quilates y su claridad es de grado IF. Esta pieza tiene un precio de $5575. Por lo general, no encontrará zafiros finos sin tratamiento térmico de cualquier tamaño a precios por debajo de los $1000 por quilate.
First Published: March-12-2008
Last Updated: October-06-2010
© 2005-2016 GemSelect.com all rights reserved.
Reproduction (text or graphics) without the express written consent of GemSelect.com (SETT Company Ltd.) is strictly prohibited.