Las piedras preciosas más grandes del mundo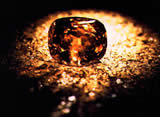 Diamante de Jubileo de Oro
Si uno menciona las palabras gema, joyas, o piedras preciosas, la imagen que muchas personas crean en su mente es la de un tesoro fascinante, de colores destellantes e intensos, que ansía ser descubierto en la corteza de la tierra.., La idea de encontrar una piedra grande y valiosa ha sido la fuerza impulsora de muchos hombres en la historia; repetidas veces han dejado sus hogares para viajar a los rincones más lejanos del planeta siguiendo los rumores sobre riquezas ocultas por descubrir. Para la mayoría, el sueño continúa inalcanzable, sin embargo para unos pocos afortunados, un único hallazgo ha significado la riqueza inmediata.
El diamante más grande del mundo depende de su concepto de la palabra "mundo". De hecho el diamante más grande que se haya descubierto se encontró flotando en el espacio en el centro de una estrella extinguida. Tiene un poco más de 4.023 kilómetros de ancho y pesa casi 3 millones de trillones de kilogramos, pero se encuentra a 50 años luz de la Tierra, y podría ser un tanto inaccesible cuantificarlo para nuestro propósito.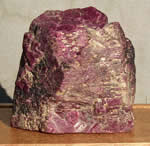 Rubí 125West
El récord mundial lo ostenta una piedra hallada por una compañía minera en una provincia del Noroeste de Sudáfrica en agosto de 2007. Antes de este suceso, el Cullinan, que fuera hallado cerca de Pretoria en 1905, era el diamante tallado más grande del mundo con 530,20 quilates, hasta que perdió dicho récord en 1985 ante el Jubileo de Oro. Éste fue descubierto en la misma mina que el Cullinan y pesó 545,67 quilates. Se dice que el record más reciente, que aún queda por verificar, corresponde a más del doble de ese tamaño.
Existe demasiada controversia en torno a la pregunta de cuál es el rubí más grande del planeta. Uno de los más famosos es el rubí Rajaratna, que pesa 2.475 quilates y fue revelado al mundo a finales de 1986. Su propietario, el señor G. Vidyaraj de Bangalore en India, heredó la gema de sus antepasados, los reyes del Impero de Vijayanagar. Desde entonces, el Rubí 125West, que está certificado por el Instituto de Gemología de los Estados Unidos y pesa poco más de 3.700 kilos o 18.696 quilates, ha ostentado el premio, al igual que otra piedra proveniente de Myanmar, de la cual se sabe pesa 21.450 quilates.
Luego, en la lista debemos incluir el rubí Chaiyo, que pesa 109.000 quilates, pero su descubrimiento estuvo tapado por el misterio y el escándalo. No sólo ha habido luchas amargas para reclamar su propiedad, sino que existen dudas acerca de si es genuino, hasta el punto de afirmar que es una piedra multicolor falsa fabricada de manera sintética por los birmanos.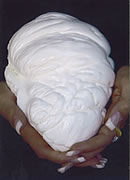 Perla de Lao Tzu
Algunos dicen que la esmeralda más grande que se haya encontrado y aún permanece sin tallar fue descubierta en Carnaiba en Brasil en 1974. Es un extraordinario cristal de berilo natural de 86.136 quilates valuado en $1.120.080 de dólares estadounidenses. Sin embargo, en 2005, se informó que unos mineros en Madagascar habían desenterrado una piedra que pesaba 540 kilogramos, la cual ha sido estimada como la esmeralda más grande del planeta.
Menor controversia causa la perla más grande que fuera descubierta por un buceador Filipino cerca de la isla de Palawan en 1934. Al principio se la llamó la Perla de Alá, pero en la actualizada se la conoce oficialmente como la Perla de Lao Tzu. Mide 24,1 cm. por 14 cm., pesa casi 6,36 kilogramos y está valuada en $40 millones de dólares.
First Published: May-14-2008
Last Updated: October-06-2010
© 2005-2016 GemSelect.com all rights reserved.
Reproduction (text or graphics) without the express written consent of GemSelect.com (SETT Company Ltd.) is strictly prohibited.