March 2008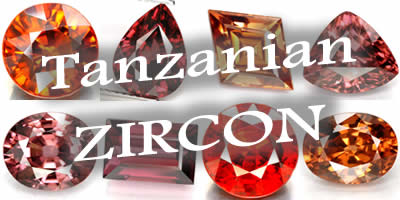 In our newsletter this month:

Tanzanian Zircon
New and Interesting Gemstones
New Content at GemSelect
Gemstones Worth Knowing
Customer Questions

Tanzanian Zircon

We wrote a newsletter feature on zircon two months ago and didn't expect to be writing about it again so soon. But we were so impressed by the Tanzanian zircon that has recently come on the market that we wanted to share the story of these exceptional gemstones.

We know that many gemstone buyers are well acquainted with the attractions of zircon. We also know that some people have never heard of it, or confuse it with the diamond simulant cubic zirconia. Zircon is a zirconium silicate and is the oldest known mineral on earth. It has good hardness (6.5 to 7.5 on the Mohs scale) and it combines a very high refractive index (approaching that of diamond) with strong dispersion, the tendency to split white light into the colors of the spectrum. In short, zircon is a very brilliant gem with impressive fire.
Most of the zircon we've seen in the past comes from Cambodia, our neighbor to the east. Northwestern Cambodia produces very fine material, some of which can be heat-treated to produce the highly regarded blue zircon. But zircon in its natural state ranges in color from yellow-brown to orange and red.
The natural zircon colors have never had quite the same appeal in the market as the heat-treated blue. But we think that the impressive material recently found in Tanzania will change a lot of minds about natural zircon. The range of colors is unusual, with some stunning colors we've never seen before in zircon. And the clarity is outstanding, with virtually all the pieces VS grade or better, with more than half the stock VVS grade. But the remarkable thing is that these zircons are big as well!

The colors include a range of oranges from golden brown to a spessartite-like mandarin. The most unusual colors are a range of rose tones, from cinammon to a pink cranberry, with some a combination of orange and rose hues. There are a few quite rare reds, from orange-red to crimson. The only heat-treated pieces in the group are some brilliant yellows; all the others are completely untreated.
There is a good selection of shapes, including ovals, rounds, pears, emerald cut and a few trillions and fancy cut pieces. Zircon is not a gem typically found in large sizes, but most of the pieces in this lot are over 2 carats. There are a good number of stones in the 5 carat size, with a few pieces as large as 6.9 carats. It is very unusual to find outstanding colors with great clarity in these large sizes.
We are buying as much of the Tanzanian zircon as we can. Right now the supply is good, but like many colored gems, one never knows how long it will last. The first signs of tightening supply is when the pieces get smaller and the clarity declines. So far we're still seeing large high quality specimens.