Le plus grand Saphir étoilé?
Le monde des pierres précieuses a beaucoup d'histoires faite de fortune, et certains de fortunes perdues aussi. Il s'agit d'une histoire vraie d'une fortune pas tout à fait faite. Mais le revendeur a sans doute eu ce qu'il méritait.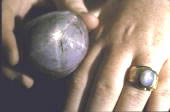 Roy Whetstine Star Sapphire
En Février 1986, un courtier en pierres précieuses du Texas nomme Roy Whetstine courait les bacs au salon des bijoux de Tucson quand il croisa une pierre de la taille d'une pomme de terre qui attira son attention. Le vendeur a déclaré qu'il s'agissait d'une agate de lavande et voulait 15 $ pour cela. Whetsine lui en a offert 10 $ et ils ont fermé la transaction ainsi.
Neuf mois plus tard, Whetsine a annoncé sa trouvaille au monde - un saphir de 1905 étoiles, le plus grand au monde. Il a 700 carats de plus que le précédent record titulaire, la Black Star du Queensland, découvert en 1948. Whetstine a dit que le bijou a été certifié par le GIA et évalué à 2,28 millions de dollars.
En Février 1987, Whetstine était de retour à Tucson essayant de vendre ses saphir étoilé, maintenant taillés et polis et rebaptisé La vie et la fierté de l'Amérique. Ils n'étaient apparemment pas preneur, mais certains experts de pierres précieuses avait eu la chance d'examiner la pierre. Comme le rapporte le New York Times, John Sampson Blanc, conservateur du National Gem and Mineral Collection à la Smithsonian Institution, l'a appelé "une pierre insignifiante." Techniquement, c'est un saphir, dit-il, mais pour être considéré comme un bijou, sa couleur devrait être attractive. "La couleur, dit-il," est affreuse - c'est juste une sorte de boue grise. " M. White a estimé que la valeur de la pierre n'était que de quelques centaines de dollars.
L'avis de la Smithsonian Institution n'a pas aidé Whetstine. Mais les choses ont empiré lorsque de nouveaux renseignements sur l'affaire ont émergé. Les histoires consécutives dans les nouvelles ont révélé que Lawrence A. Ward, le propriétaire du magasin de bijoux qui avait émis l'appréciation de 2,28 millions de dollars, avait perdu son appartenance à la société des Gems américaine à la suite de nombreuses plaintes selon lesquelles il avait des évaluations gonflées. En outre, les dossiers de la Cour ont montré que deux procès avaient été intentés contre Whetstine et Ward plusieurs années avant même de gonfler la valeur de ces pierres précieuses.
Toute l'affaire commence à ressembler à une escroquerie. Le vendeur d'origine n'a jamais été révélé, et on a signalé que Ward l'évaluateur avait évalué une pierre de la masse exacte en carats plusieurs années avant que Whetstine à affirmé avoir acheté la pierre à Tucson. Maintenant, les deux Whetstine et le saphir ont mauvaise allure. Mais au dernières nouvelles, il essaye toujours encore de vendre la pierre pour tout ce qu'il pourrait en tirer.
First Published: February-22-2008
Last Updated: October-06-2010
© 2005-2016 GemSelect.com all rights reserved.
Reproduction (text or graphics) without the express written consent of GemSelect.com (SETT Company Ltd.) is strictly prohibited.