Hématite et Pyrite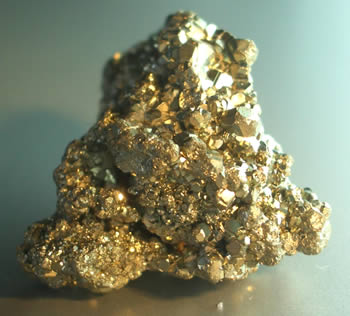 Pyrite du Pérou
Les gemmologistes utilisent un ensemble de termes techniques pour désigner le lustre ou la lumière réfléchie par la surface d'une pierre. Ces termes incluent adamantin (comme le diamant), vitreux (comme le verre), soyeux, résineux, grasse et métalliques.
L'éclat le plus commun, typique de la transparence des gemmes à facettes comme le saphir, le spinelle, le béryl, le quartz et la tourmaline, est vitreux. L'éclat le plus fort ou le plus réfléchissant est connue sous le nom de métalliques, indiquant une surface réfléchissante similaire au métal poli. Les pierres précieuses avec un éclat métallique ont généralement un indice de réfraction d'environ 2,6 à plus de 3,0, nettement plus élevé que le diamant (à 2,4).
Très peu de gemmes ont un éclat métallique. Les plus connus sont l'hématite et la pyrite, deux minéraux à base de fer qui ont souvent été utilisées à des fins ornementales.
L'Hématite, un oxyde de fer, tire son nom du mot grec pour le sang, car il est rouge quand on le trouve en tranches minces ou en poudre. L'Hématite cristallise dans le système cristallin rhomboédrique, et a la même structure cristalline que le saphir et le rubis. L'hématite est toujours opaque et est généralement d'un gris noirâtre. Vous le trouverez taillé en cabochons ou avec des facettes, et les gravures sont particulièrement populaires. L'Hématite est un matériau traditionnel pour les chevalières. Lorsqu'il est poli il peut parfois ressembler à l'argent.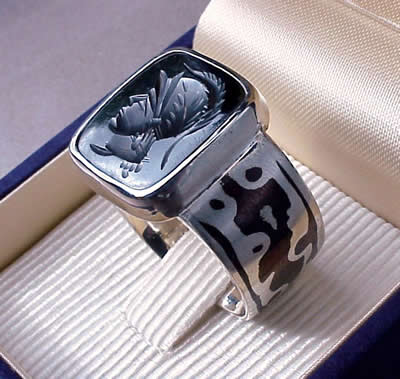 Hématite Intaglio
Les gisements d'hématite se trouvent au Royaume-Uni (Cumberland), au Bangladesh, au Brésil, en Chine, en Nouvelle-Zélande, en République tchèque et aux Etats-Unis (Minnesota). L'Hématite a également été trouvé sur la planète Mars par la sonde de la NASA. Puisque l'hématite se trouve généralement dans les milieux aqueux sur la Terre, cela a amené à la spéculation qu'il y a eu de l'eau sur Mars.
La pyrite (aussi connu comme pyrite de fer) est un sulfure de fer qui est généralement en laiton jaune ou gris-jaune, ce qui lui a valu le surnom de "Fool's Gold ou l'or des fous». Son nom vient du grec pour le feu, car elle produit des étincelles lorsqu'elle est frappé par l'acier ou le silex. Historiquement la pyrite a été largement utilisé dans les bijoux, mais n'est plus très bien perçu de nos jours. Vous trouverez la pyrite dans des sculptures servant d'à côté pour des pierres dans des bagues, des pendentifs et parfois dans une forme de disque avec un motif distinctif radiale. La pyrite a une relativement bonne dureté (de 6 à 6,5 sur l' échelle de Mohs), mais est assez fragile.
Les gisements de pyrite se trouvent au Pérou, en Bolivie, au Mexique, en Suède, en Roumanie et aux États-Unis (Colorado).
First Published: January-06-2009
Last Updated: April-21-2011
© 2005-2016 GemSelect.com all rights reserved.
Reproduction (text or graphics) without the express written consent of GemSelect.com (SETT Company Ltd.) is strictly prohibited.