Dr. Edward Gübelin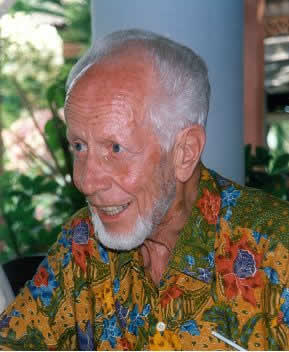 Dr Eduard J. Gübelin
Dr. Eduard J. Gübelin peut à juste titre être appelé le père de la gemmologie moderne. Né à Lucerne, en Suisse en 1913, sa famille était horlogers et bijoutiers dans la meilleure tradition suisse. Il a étudié dans les universités de Zurich et de Vienne, pour obtenir un doctorat en minéralogie, en 1938. Il a ensuite voyagé aux États-Unis, où il fut l'un des premiers étudiants résidents de la jeune Institut de Gemmologie d'Amérique et a travaillé avec les premiers dirigeants au début du mouvement de la gemmologie professionnel.
Au début du XXe siècle, le père de Gübelin, Edouard Gübelin Sr., a reconnu la nécessité d'une analyse scientifique des pierres précieuses pour soutenir l'industrie des bijoux. En 1902, le chimiste français Auguste Verneuil avait mis au point une méthode connue sous le nom de flamme de fusion pour créer des rubis synthétiques. Cette innovation n'était pas une simple expérience de laboratoire. En 1907, Verneuil avait transformé son laboratoire en une installation à grande échelle et produisait environ 1,000 kg de corindon synthétique. L'industrie des bijoux avait besoin d'être capable de certifier les pierres précieuses naturelles.
La famille a créé le Laboratoire des Pierres précieuses Gübelin et le jeune Eduard rejoint l'entreprise familiale en 1932. Pendant ses études avec le professeur Hermann Michel à Vienne, il avait développé un intérêt pour l'étude des inclusions des pierres précieuses et de leur importance pour l'identification des pierres gemmes. C'est devenu un intérêt de toute une vie et a conduit sa plus grande contribution à la science de la gemmologie.
Le Dr. Gübelin est devenu un éminent spécialiste des inclusions de pierres précieuses et de la microphotographie. Il a publié un certain nombre de livres importants et des centaines d'articles dans des revues savantes et populaires. Ses livres les plus connus comprennent le Monde intérieur de pierres précieuses: les Documents de l'Espace et du Temps (1974) et Photoatlas des inclusions de pierres précieuses (1986), co-écrit avec le gemmologue John Koivula.
Dr Eduard J. Gübelin - Collection de Béryl
Basé sur l'étude des inclusions du Dr Gübelin, le laboratoire Gübelin est devenu un pionnier dans la détermination de l'origine des pierres précieuses. Au cours d'une carrière de 70 ans, le Dr Gübelin avait réuni une célèbre collection de gemme de plus de 5000 spécimens, couvrant toutes les espèces de pierres précieuses commerciales et rares. Il avait recueilli beaucoup d'échantillons personnellement pendant ses voyages et pour la plupart dans des sites miniers éloignés.
Le Dr. Gübelin décéda en 2005, quelques jours avant son 92e anniversaire. Le Gemological Institute of America (GIA) a acquis sa collection de pierres précieuses pour le bénéfice de la profession.
First Published: July-11-2009
Last Updated: March-18-2010
© 2005-2016 GemSelect.com all rights reserved.
Reproduction (text or graphics) without the express written consent of GemSelect.com (SETT Company Ltd.) is strictly prohibited.