Un traitement thermique modéré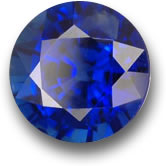 Saphir de Madagascar Traité Thermiquement
Beaucoup d'acheteurs sur le marché du saphir naturel préfèrent acheter des saphirs non traité thermiquement. Mais comme ces gemmes non traité sont si rares, il y a très peu de choix disponible dans la couleur, la taille et la forme. L'écrasante majorité des saphirs du marché ont été traités par la chaleur, y compris de nombreuses pierres haut de gamme.
Certains clients qui se sont familiarisés avec les réalités du marché du saphir nous informent qu'ils sont disposés à acheter un saphir traité, mais qui a été traitée avec un "traitement thermique léger" seulement. Le terme "traitement thermique léger" n'est pas un terme familier pour nous, mais cela semble être un concept de plus en plus populaires. Quand nous avons vu qu'il est utilisé avec l'approbation d'un site internet par un groupe se faisant appeler l'Association des Bijoutiers Éthique, nous avons commencé à nous y intéressé.
Notre préoccupation est que le terme "traitement thermique léger" pour le traitement thermique du saphir et du rubis est trompeur, car le traitement se fait réellement à de très hautes températures. Même ce que l'on appelle traitement thermique à basse température pour des pierres précieuses comme le quartz, l'apatite, le béryl, le spodumène et la tanzanite est réalisée à des températures que beaucoup pourraient trouver surprenante.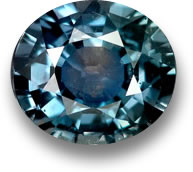 Saphir Bleu-Vert de Tanzanie Non Traité
La raison pour laquelle le saphir est chauffé à haute température est très certainement parce que le but du traitement thermique est de dissoudre les inclusions de rutile. Lorsque le rutile est dissous, il a deux effets bénéfiques - il améliore la clarté de la pierre en éliminant la nébulosité, et il améliore la couleur par la libération de titane dans le saphir.
Mais pour atteindre cet objectif cela nécessite des températures très élevées, puisque les rutiles (dioxyde de titane) commencent à se dissoudre à des températures autour de 1650 degrés centigrades et à un point de fusion de 1843 degrés centigrades. Je ne pense pas que quiconque pourrait appeler ce traitement thermique «léger». En fait, ce sont les mêmes gammes de température que les fours utilisés pour incinérer les restes humains.
D'autres variétés de joyaux, comme le quartz, la tanzanite et le béryl, sont chauffés à des températures bien inférieures pour améliorer leur couleur. Mais même cette "basse température" de chauffe est réalisée à des températures allant de 600 à 1200 degrés centigrades, 2 à 4 fois plus élevée que la température maximale de la plupart des fours de cuisine.
La seule "légèreté" au sujet du traitement à basse température, c'est qu'il ne cause pas de structures internes dans le joyau qui vont se dissoudre ou fondre. Pour cette raison, il est généralement très difficile de dire si un bijou a été traité à ces températures plus basses, et même les meilleurs laboratoires de gemmologie ne seront généralement pas en mesure de certifier que ces pierres sont traitées. Les saphirs, d'autre part, peuvent être classés de manière fiable comme traité ou non, parce qu'ils sont traités à des températures extrêmement élevées. Bien que certains acheteurs pourraient être déçus, il n'y a vraiment rien de "léger" à ce sujet.
First Published: June-19-2010
Last Updated: January-11-2011
© 2005-2016 GemSelect.com all rights reserved.
Reproduction (text or graphics) without the express written consent of GemSelect.com (SETT Company Ltd.) is strictly prohibited.