Le Colette des pierres précieuses taillées
Le terme "colette" en anglais "culet" est un de ces termes techniques en gemmologie que personne ne sait vraiment prononcer. La prononciation correcte est kyoo-lit, et le terme vient du latin "culus" qui signifie en bas.
La colette est la facette minuscule au bas de nombreuses pierres précieuses facettés. Toutes les pierres facettés n'ont pas une colette. Dans de nombreuses pierres précieuses, la colette est fermé, ce qui signifie que la pointe de l'entrée est en pointe, sans facette. Généralement la facette de la colette est très petite et en effet vous avez besoin d'un certain niveau de rapport optique pour la détecter. Strictement parlant, les gemmologues disent qu'une pierre précieuse a une colette uniquement dans le cas où une petite facette est coupé à l'extrémité du pavillon. Une colette fermé signifie vraiment pas de colette du tout. Mais beaucoup de gens dans le commerce se réfèreront toujours à l'extrémité pointue comme étant la colette.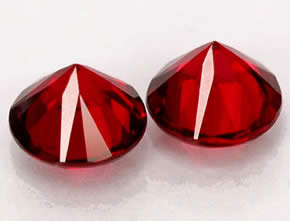 Brilliant Cut Spinel
Parfois vous lirez qu'une coupe brillante ronde a 57 facettes, et parfois 58; la cinquante-huitième facette est la colette. La facette de la colette est demeurée facultative sur beaucoup de coupes de diamant jusque aujourd'hui, et a été omise des conceptions originales de Marcel Tolkowsky pour la coupe brillante ronde en 1919. Cependant, les facettes de colette sont néanmoins communes en matière de coupe moderne de diamants brillants.
Alors pourquoi certaines pierres précieuses ont des coupes avec des colettes ? La raison principale est de protéger l'extrémité du pavillon de l'effritement, surtout lorsque la gemme est en cours de traitement et en cours de coupe ou de réglage. Etant donné le coût de beaucoup de matériaux de gemme, l'importance de cette considération pratique ne devrait pas être sous-estimée.
Si c'est important, pourquoi alors quelques pierres gemmes sont-elles coupées sans facette de colette ? La raison, dans les esprits de quelques coupeurs de gemme, est qu'une colette mal coupée peut poser plus de problèmes qu'elle n'en résout. Une très grande facette de colette peut être visible à l'oeil nu et peut ressembler à une inclusion quand vous la regardez vers le bas par la table de la gemme. C'est encore plus vrai avec les gemmes sans couleur comme les diamants, où une grand colette peut apparaître comme une tache foncée au centre de la gemme. Avec les pierres gemmes colorées le souci est plus pour créer un effet de fenêtre, où trop de lumière traverse le fond de la gemme.
First Published: April-22-2009
Last Updated: March-03-2011
© 2005-2016 GemSelect.com all rights reserved.
Reproduction (text or graphics) without the express written consent of GemSelect.com (SETT Company Ltd.) is strictly prohibited.