Carrières en gemmologie
La gemmologie est l'étude des pierres précieuses, elle a été diversement décrite comme un art, une science et une profession, et comprend sans doute tous les trois. Elle s'inscrit dans la catégorie de la géoscience comme une branche de la minéralogie, et ses représentants travaillent dans tous les secteurs de l'industrie des pierres précieuses et des bijoux. Voici quelques-unes des nombreuses carrières possibles pour les personnes ayant une formation en gemmologie.
Les gemmologues utiliser diverses échelles de mesure pour identifier et classer les pierres précieuses, y compris leur structure cristalline, leur formation et les propriétés physiques et optiques. Les gemmologues peuvent travailler dans un laboratoire, en analysant des pierres et en préparant des rapports personnalisés aux clients, incluant les mineurs, les grossistes en pierres, les détaillants et les propriétaires de pierre précieuse individuels.
Les laboratoires gemmologues utilisent des microscopes et autres instruments sophistiqués pour étudier la structure interne des pierres brutes ou des pierres précieuses taillées pour être en mesure de faire la distinction entre les pierres précieuses naturelles et synthétiques. Ils peuvent également identifier les pierres précieuses qui ont été traité thermiquement, des fractures remplie ou qui ont des couleurs qui ont été améliorés, des facteurs qui peuvent affecter grandement leur valeur. Certains laboratoires de pierre précieuse ont construit de grandes bases de données qui leur permettent de manière fiable d'identifier l'origine géographique de certaines sortes de pierres précieuses, telles que le rubis ou le saphir.
L'estimation est plutôt un secteur spécialisé de la gemmologie, où la science et les affaires se rencontrent. L'évaluateur estime la valeur monétaire des pierres précieuses à l'aide d'une formule complexe qui tient compte du prix par carat pour une variété de pierres précieuses en particulier, ainsi que son poids, sa couleur, sa clarté et la qualité de la coupe. La valeur déterminée par l'évaluateur peut être utilisés aux fins d'assurer adéquatement une gemme, ainsi que la fixation d'un prix de vente.
Certains gemmologues travaillent sur le côté industriel des affaires des pierres précieuses, l'achat, le tri, le traitement et la coupe des pierres précieuses. D'autres deviennent des créateurs de bijoux, en appliquant leur connaissance des pierres précieuses à l'art de la haute joaillerie.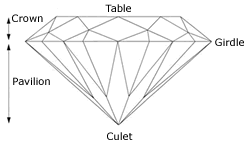 Beaucoup de gemmologues ont tourné leur connaissance spécialisée au monde des affaires, comme les marchands de pierre précieuses ou les bijoutiers. Auparavant très peu de magasins de bijoux avaient des connaissances en gemmologie, maintenant il n'est pas inhabituel pour une bijouterie d'avoir un ou plusieurs gemmologues dans leur personnel.
La gemmologie est devenue un domaine en pleine évolution avec de nombreux progrès dans le traitements des pierres précieuses. Il y a eu un certain nombre de cas récents où des gemmologues ont eu à travailler sous pression pour donner une évaluation précise de pierres précieuses, qui ont déjà atteint le marché. C'est arrivé avec des saphirs traités avec du béryllium en 2001-2003 et est actuellement en cours avec le cas de l'andesine-labradorite.
D'autres carrières pour les gemmologues incluent, historien, conservateur de musée, chercheur, éducateur et écrivain. Donc, si vous aimez les pierres précieuses, et leur trouver un attrait irrésistible, une carrière en gemmologie peut être faite pour vous.
First Published: June-05-2008
Last Updated: October-06-2010
© 2005-2016 GemSelect.com all rights reserved.
Reproduction (text or graphics) without the express written consent of GemSelect.com (SETT Company Ltd.) is strictly prohibited.