Acheter des Pierres précieuses en Thaïlande
La Thaïlande est bien connu comme l'un des centres commerciaux les plus importants au monde pour les pierres précieuses de couleur. Il n'est donc pas surprenant que de nombreux visiteurs aillent en Thaïlande - nous avons plus de 12 millions de touristes par an - qui sont intéressées par l'achat de pierres précieuses. Mais ce n'est pas aussi facile qu'il y paraît. En effet de nombreux touristes en proie à des hommes sans scrupules se retrouve dans des escroqueries infâme parfois connu sous le nom "The Thai Gem Scam".
Voici comment cela fonctionne. Un touriste se propose de visiter l'un des endroits touristiques bien connus de Bangkok, telles que le Grand Palais ou Wat Phra Keow, le Temple du Bouddha d'émeraude. En arrivant dans la région, le touriste sera approché par un Thaïlandais sympathique bien habillé, peut-être un étudiant, qui parle bien l'anglais. Il informe les touristes que, malheureusement, l'attraction qu'il veut voir est fermé ce jour en raison d'une fête spéciale, mais il a un tuk-tuk (pousse-pousse motorisé) qui le conduira à un temple particulier que peu de touristes ont la chance de voir.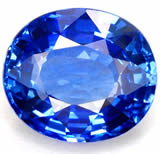 au moment d'arriver au temple, le touriste rencontre un autre Thaïlandais sympathique qui engage une conversation. Au cours de la conversation le touriste est informé d'un programme gouvernemental spécial qui permet aux étrangers d'acheter des pierres précieuses de bijouterie détaxés et de faire un bénéfice sur les articles quand ils seront expédiés à la maison. Cependant, il dit en passant aussi qu'aujourdhui est le dernier jour du programme.
Le touriste crédule qui se laisse prendre à cette histoire est amené à un magasin de pierres précieuses où il est mis sous pression pour acheter des pierres ou des bijoux qui, il est assuré, sont de la qualité la plus parfaite. Le propriétaire de magasin exige le paiement en liquide, mais fournit un service supplémentaire d'emballage des marchandises et d'envoi à l'adresse du domicile du touriste.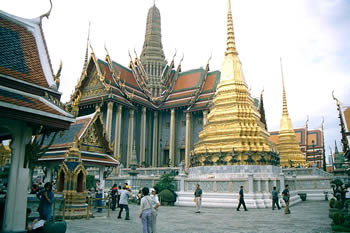 Une fois de retour chez lui, il découvre que les joyaux sont des produits synthétiques ou de qualité inférieure, d'un montant beaucoup moindre que ce qu'il a payé. À ce moment il y a très peu de chose qu'il peut faire.
Les escroqueries touristiques sont malheureusement des réalités de la vie dans de nombreux endroits dans le monde et sont toujours en développement. Vous pouvez vous protéger en étant sceptique face à des histoires invraisemblables sur des promotions spéciales et des tactiques de vente sous pression sont toujours un signe d'avertissement. Ne payez jamais en espèces pour des objets précieux - cartes de crédit et les modes de paiement électroniques tels que PayPal peuvent fournir une importante mesure de protection des consommateurs.
La chose probablement la plus importante est d'acheter chez un revendeur de pierres ui a une réputation d'entreprise honnête. Cela peut être difficile à faire lorsque vous êtes un étranger dans la ville, mais vous pouvez faire des recherches sur Internet avant de quitter la maison. Un certain nombre de revendeurs de joyau bien connu vendent sur internet et vous pouvez trouver les mêmes prix en ligne que vous trouverez en Thaïlande, avec beaucoup moins de risques.
First Published: May-02-2008
Last Updated: March-02-2011
© 2005-2016 GemSelect.com all rights reserved.
Reproduction (text or graphics) without the express written consent of GemSelect.com (SETT Company Ltd.) is strictly prohibited.