Pierres précieuses Abordables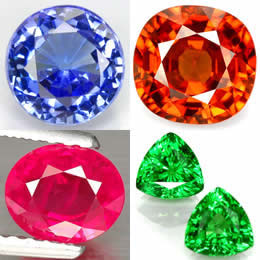 Beaucoup de gens aimeraient posséder une pièce de bijouterie personnalisés avec une pierre fine. Mais ils sont rebutés par la conviction que les pierres fines sont très chers, coûtant des milliers de dollars.
On ne peut pas dire que cette croyance soit erronée, puisque la plupart des pierres fines coûte des milliers de dollars. Mais cela dit, de nombreux acheteurs potentiels sont surpris de découvrir qu'il est possible d'acheter des pierres fines de taille raisonnable pour moins de 500 $. Vous avez juste besoin de savoir où chercher et quoi chercher.
Les prix de pierres précieuses, comme le prix de beaucoup d'autres produits, fluctuent avec l'offre et la demande. Si il y a une grande demande et des réserves limitées, les prix seront élevés, comme ils le sont avec des pierres précieuses comme le saphir bleu, la tanzanite, le grenat tsavorite et le rubis birman.
Pourtant, il y a beaucoup de pierres qu'on trouvent constamment en abondance, et bon nombre d'entre elles sont en effet à un prix raisonnable. Cela comprend l'améthyste, la citrine, l'amétrine, le topaze bleue et beaucoup de grenats rouge commune. Des pièces de bonne qualité peuvent se vendre pour aussi peu que 10 $ le carat.
Cependant, l'améthyste ou la citrine peuvent ne pas être tout à fait ce que vous avez dans l'idée quand vous pensez "la pierre précieuse parfaite." Une autre stratégie pour trouver des gemmes à prix abordable est d'examiner certaines variétés de pierres fines qui sont rares, mais pas encore chères. Ce sont des joyaux qui, en raison de leur rareté, n'ont pas été fortement encouragé sur le marché. Il s'agit notamment du spinelle, péridot, zircon, béryl, toumaline et grenat spessartite. Tous ces spécimens ont une bonne dureté, de la clarté et de l'éclat. Selon la taille et la couleur, des spécimens de qualité peuvent être trouvé à des prix de 20 $ à 150 $ le carat.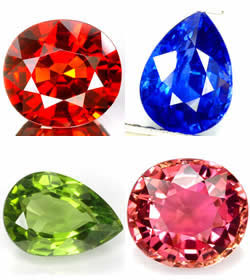 Une autre chose à laquelle on doit réfléchir est que l'endroit où vous achetez vos pierres précieuses peut affecter le prix autant que le type de pierres précieuses que vous achetez. Le même saphir bleu de 1.5 carats du Madagascar peut coûter de 400$ à 1500$, selon l'endroit où vous l'achetez. La chaîne de distribution des pierres précieuses peuvent consister en de nombreuses étapes et chaque étape supplémentaire dans la chaîne peut augmenter le prix de vente de 50%. Achetez près de la source pour obtenir les meilleurs prix et vous pourrez économiser des centaines de dollars.
En fait il est toujours possible d'acheter des saphirs de bonne qualité, tanzanite, tsavorite le grenat et même le rubis birman à moins de 500$ si vous trouvez la bonne source. Évidemment vous n'aurez pas les échantillons les plus parfaits de ces pierres précieuses à moins de 500$; ils coûtent réellement des milliers de dollars! Mais vous pouvez trouver des spécimens de haute qualité avec la bonne couleur et la clarté, de la taille de 1 à 1,5 carat dans cette gamme de prix. Rappelez-vous juste que vous pouvez également payer 2000 $ pour des gemmes même si votre fournisseur n'est pas très éloignée de la source de la pierre.
First Published: March-18-2008
Last Updated: October-06-2010
© 2005-2016 GemSelect.com all rights reserved.
Reproduction (text or graphics) without the express written consent of GemSelect.com (SETT Company Ltd.) is strictly prohibited.