À propos de la pierre précieuse de Péridot
Péridot (prononcé pair-uh-doe) est la variété de pierre précieuse d'olivine. L'Olivine, qui n'est pas un minéral officiel, est composé de deux minéraux : fayalite et forsterite. La Fayalite est le membre riche en fer avec une formule pure de Fe2SiO4. Le Forsterite est le membre riche en magnésium avec une formule pure de Mg2SiO4. La formule de l'Olivine est écrite comme (Mg, Fe) 2SiO4 pour montrer la substitution du magnésium et du fer. Le Péridot est d'habitude plus proche du forsterite que de la fayalite dans la composition bien que le fer soit l'agent changeant de couleur pour le péridot. Le meilleure péridot de couleur a un pourcentage de fer de moins de 15% et inclut le nickel et le chrome comme oligo-éléments, qui peuvent contribuer aussi à la couleur.
La plupart des gemmes d'origine minérale sont formées dans la croûte terrestre. Mais il y a deux exceptions: tant le péridot que le diamant sont formés beaucoup plus profondément dans la terre, dans la région appelé le manteau. Les cristaux de Péridot se forment dans le magma du manteau supérieure (de 20 à 55 miles de profondeur) et sont apportés à la surface par l'activité tectonique ou volcanique où on peut les trouvés dans les roches ignées extrusive. Les diamants ont été formés beaucoup plus profondément dans le manteau (environ 100 à 150 miles en-dessous de la surface), à des températures et des pressions extrêmes.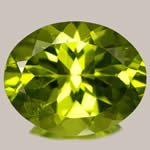 Le Péridot est une des rares pierres précieuses qu'on trouve seulement en une couleur. La profondeur du vert dépend du fer contenu dans la structure en cristal et varie de jaune-vert à olive à vert-brunâtre. Le Péridot considéré quelquefois comme "l'émeraude du pauvre homme." est l'Olivine un minéral très abondant, mais la pierre précieuse de péridot de qualité est assez rare en fait.
Les sources importantes du péridot sont la Birmanie, le Pakistan, la Chine, le Viêtnam et les États-Unis. La qualité la plus parfaite de péridot est venue traditionnellement du Mogok en Birmanie, bien que le péridot pakistanais soit maintenant apprécié par beaucoup également. Les Etats-Unis étaient pendant plusieurs années les plus grand producteurs de péridot. Les gisements d'Arizona sont la source la plus importante du péridot américain. La Mesa de Péridot, localisée sur la Réserve indienne Apache de San Carlos à l'est du Globe dans le Comté Gila, est la localité la plus productive de péridot dans le monde. Un deuxième endroit en Arizona dont le péridot est extrait est le Buell Park dans Apache County, à environ 16 kilomètres au nord de Fort Defiance. Cependant, il est estimé que 80 % à 95 % de la production mondiale du péridot viennent de la Réserve de San Carlos, principalement pour le péridot de qualité commerciale (le péridot est la pierre de naissance du mois d'août).
Le plus grand péridot coupé est de 310 carats et exposé au Smithsonian à Washington, D.C.; une pierre de 192.75 carats appartenant aux tsars est dans la Trésorerie de Diamants, à Moscou; et 146 carats de péridot peuvent être trouvés au Musée Géologique à Londres, en Angleterre. Le Péridot est une pierre précieuse relativement bon marché dans de petites tailles, mais la valeur augmente avec les pierres de plus de 5 carats, les pierres de 10-15 carats sont très rares et chères. Il n'y a aucun traitement connu pour améliorer la couleur ou la clarté du péridot, donc le péridot est toujours une pierre précieuse non soignée.
First Published: December-06-2007
Last Updated: February-26-2011
© 2005-2016 GemSelect.com all rights reserved.
Reproduction (text or graphics) without the express written consent of GemSelect.com (SETT Company Ltd.) is strictly prohibited.